This is an archived article and the information in the article may be outdated. Please look at the time stamp on the story to see when it was last updated.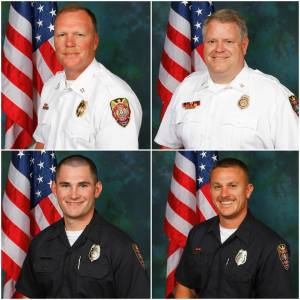 GREENSBORO, N.C. — Four firefighters are recovering Friday after they were injured when a roof collapsed during a large fire at an auto shop in downtown Greensboro Thursday afternoon.
The fire was reported around 12:45 p.m. at Import Knight Auto Repair at 811 S.Elm St., Greensboro.
Crews are continuing to work putting out hot spots in the building on Friday.
The four injured firefighters were initially taken to Moses Cone Hospital.
Captain Thomas Sterling Suddarth was the firefighter most seriously injured in fire. He was taken from Moses Cone to Wake Forest Baptist Medical Center.
Greensboro Deputy Fire Chief Clarence Hunter says Capt. Suddarth is doing well Friday morning, and even talking.
Capt. William Shane Boswell, Matthew Clapp and Bryan Bachemin also sustained minor injuries. All three have been released from Moses Cone Hospital.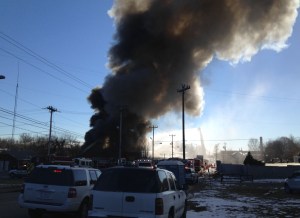 The Deputy Fire Chief told FOX8 reporter Lindsey Eaton that he believed all four firefighters were conscious and breathing when they were transported to Cone.
There were six workers inside at the time of the fire. All made it out safely.
The fire was reported to be contained around 5 p.m.
Fire officials said this is the first serious injury a Greensboro firefighter has suffered in line of duty "in a very long time."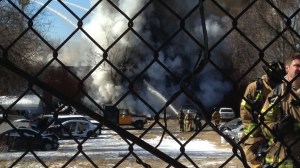 Both Charlotte and Salisbury fire departments responded to support firefighters and their families.
Greensboro Police are asking motorists and pedestrians to avoid the area of Elm and Lee Streets.
Officials said the streets will remain closed until Friday.
Firefighters still don't know what caused the blaze but Eric Boafa, an employee at Import Knight Auto Repair, says it may have started from the space heaters workers were using to keep warm.
"I think something dropped on to the heater and it just caught on fire," he said.
"We have not had an opportunity to go in to actually see what was causing that amount of smoke," said Greensboro Deputy Fire Chief Clarence Hunter.