This is an archived article and the information in the article may be outdated. Please look at the time stamp on the story to see when it was last updated.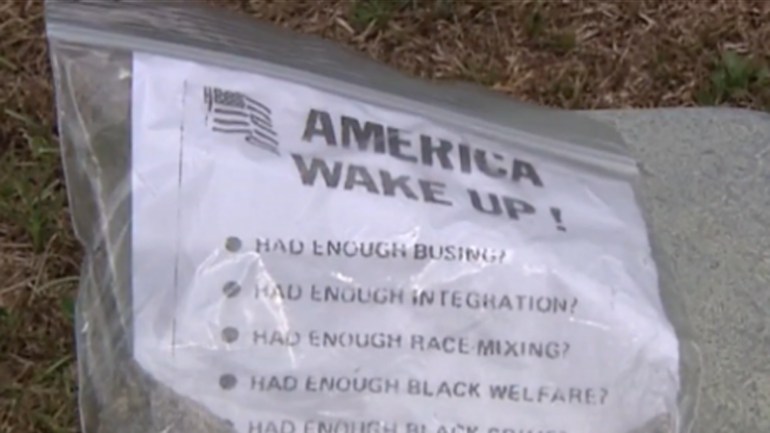 HARNETT COUNTY, N.C. — Ku Klux Klan recruitment fliers were delivered to some Harnett County residents over the weekend.
A Klan leader told WTVD that the deliveries are ahead of an upcoming North Carolina rally set to take place on Aug. 9. Thousands are expected to attend.
WTVD initially reported the event would be held near High Point. It's now believed the event will be held in Welcome.
On the organization's website, the event is listed as "North Carolina," with the disclaimer: "You must be a LWK member to know where and when."
Most of the fliers were delivered along N.C. Highway 27, Barbecue Church Road, and in the Tingen Pointe subdivision.
The fliers read "Save Our Land, Join the Klan."
They ask neighbors whether they're tired of black crime, black welfare and race-mixing, and lists a Triad-area Klan hotline for membership.
Many neighbors were shocked by the fliers.
Chris Barker, the Imperial Wizard of the North Carolina-based Loyal White Knights of the Ku Klux Klan told WTVD that the weekend distributions took place nationwide from California to Louisiana and Georgia.
"It ain't against the law to distribute fliers. So if they don't like it, they can pick it up and throw it away. Point blank," Barker said. "It ain't no different than the pizza guy who comes to my door."
Despite the fliers' concentrated messages towards blacks, Barker said the KKK has a new mission.
"If they (blacks) would actually listen to what we're talking about, it ain't about them anymore with the Klan. It's usually about the immigrants who are flooding (the United States)."
Barker said following the August rally, the group plans to rally against immigration in Texas.
Source: WTVD