This is an archived article and the information in the article may be outdated. Please look at the time stamp on the story to see when it was last updated.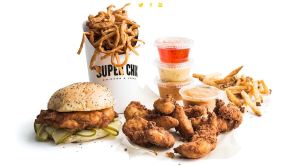 ARLINGTON, Texas — KFC's parent company Yum Brands has quietly launched a new concept restaurant in Arlington, Texas that will take aim at Chick-fil-A.
This week, Super Chix opened with a limited menu including chicken sandwiches, chicken tenders, salads, fries and custards.
The Super Chix website describes the chicken as "hand-breaded" and says it's free of MSG, high-fructose corn syrup and phosphates.
Some of the chain's offerings resemble KFC rival Chick-fil-A, experts noted.
Despite being listed on Super Chix's trademark application, Yum Brands is not listed as the owner on Super Chix's website, according to CNBC
Chick-Fil-A took over as the top chicken chain in the U.S. in 2012.  Super Chix's slogan is "The Last True Chicken Sandwich," an obvious reference to Chick-fil-A's slogan "We Didn't Invent the Chicken, Just the Chicken Sandwich.