This is an archived article and the information in the article may be outdated. Please look at the time stamp on the story to see when it was last updated.
FORSYTH COUNTY, N.C. -- A Kernersville family's pictures revealing their daughter's abuse went viral on Facebook this week. It was shared nearly 50,000 times in 24 hours.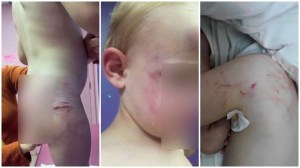 In the post, Craig Hollars explains he and his wife, Leigh, were devastated charges were dropped against the man accused of beating their 2-year-old daughter in October 2013.
They said the charges were dropped this week because witnesses didn't show up in court Wednesday.
Backstory
The Hollars say they trusted their neighbor and friend to babysit their youngest child, a 2-year-old girl, in 2013.
Leigh first realized something was wrong when a police officer called her asking about bruising on her daughter's face.
"I get to Baptist Hospital and they tell me that they think that she's been beaten. I walk around the corner and my daughter is black and blue. From head to toe."
The Forsyth County Sheriff's Office investigated. They had enough evidence and witnesses to proceed with charges in May 2014.
The Hollars' babysitter's husband allegedly beat the little girl the bathroom of the Walkertown Hardee's on Old Hollow Road.
Kyle Christopher Fox was charged with misdemeanor child abuse on May 9, 2014. He was arrested by the Winston-Salem Police Department on May 24, 2014.
Since then, the case has been repeatedly continued in court.
Case dismissed
Wednesday morning, the Hollars believed they were going to court for the last time. But when they arrived, they were told the charges against Fox were dropped.
The District Attorney's Office confirmed, saying necessary witnesses for prosecution were not present to testify at trial.
Craig insisted, "I'm supposed to let the court system handle it and the court system failed. I could have done a better job myself. And I promise you he'd never have hurt another child again."
Charges re-filed
While the Hollars took their frustration to Facebook, the District Attorney's office was working to re-charge Fox. This time, he's also facing a felony.
"Kyle C. Fox was re-charged today with one count of misdemeanor child abuse, as well as the additional charges of felony assault by strangulation and misdemeanor assault on a child under the age of 12," the D.A. wrote in a press release Thursday.
They told FOX8 the suspect was not going to slip through the cracks. A warrant was issued and the D.A. involved in the case said Fox has not turned himself in yet. They advise anyone who sees him not to approach him but to call 911.
"I just don't want anyone else to have to go through this and I know on a daily basis it happens," said Leigh. "People told us, 'Oh, your daughter won't remember any of this. She's only 2 years old.' But she still wakes up screaming and kicking from nightmares."
They are thankful witnesses at Hardee's stepped forward with information.
Fox's criminal history
In addition to the child abuse charges, Fox has four pending court dates in Forsyth County for charges including: disorderly conduct in a public building; possessing drug paraphernalia; driving while license revoked; assault with a deadly weapon; reckless driving; communicating threats; and multiple driving-related charges.
He also has a criminal history of convictions in North Carolina including: DWI; felony possession of drugs; carrying a concealed weapon; breaking and entering; communicating threats; assault on female; larceny; and assault.
Leigh and Craig are relieved Fox was re-charged.
"Trust the Lord. He'll take care of it; you don't always understand why things happen the way they happen, but he has a reason for it," she said.