This is an archived article and the information in the article may be outdated. Please look at the time stamp on the story to see when it was last updated.
MARION, N.C. — The North Carolina family of a U.S. Forest Service officer killed in the line of duty with his K-9 officer got a surprise – a new puppy.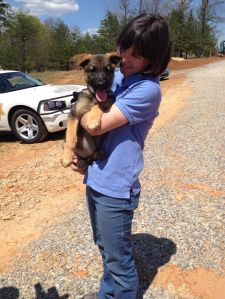 WSOC-TV reported that fallen officer Jason Crisp's wife and sons received a German shepherd puppy from the same people who trained Maros, the K-9 who died with Officer Crisp.
The family named the puppy Mara in honor of Maros. Both Crisp and Maros were shot and killed about a month ago by a murder suspect in Burke County.
Crisp's oldest son says the puppy will go a long way toward helping the family heal.
"It means a lot to me because Maros was a big part of our family, so hopefully this will be a little part of Maros," said Garrett Crisp.
The family had seen pictures of Mara, but when they got the dog on Saturday, it was their first time meeting the canine.
Officer Jason Crisp his K-9 were shot and killed while tracking murder suspect Troy Whisnant in Burke County.
Crisp and Maros had planned to be buried together, according to a report from last month.