This is an archived article and the information in the article may be outdated. Please look at the time stamp on the story to see when it was last updated.
Another one from the Jeremy Mayfield mansion controlled burn. I'd say this one's gone… pic.twitter.com/aphLn47Z2T

— David Whisenant WBTV (@DavidWhisenant) December 20, 2013
CATAWBA COUNTY, N.C. — A million dollar mansion once owned by former NASCAR driver Jeremy Mayfield was burned to the ground on Thursday evening during planned firefighter training.
According to WSOC, Mayfield was evicted from the property last year after financial troubles stemming from a failed drug test in 2009 that banned him from racing.
The house was once reportedly valued at $1.8 million.
Everything in the seven-bedroom, seven-bath house was stripped down from the windows to the wiring.
Neighbors said Mayfield tried to renovate the home, but when he was banned from racing and arrested for possession of meth and stolen property work on the home came to an abrupt halt.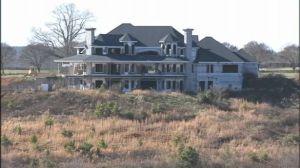 Catawba Fire Chief Donald Robinson says the new owners no longer want the home that is worth just over $300,000 dollars.
Burning it took it off the tax books while providing training for firefighters in the county.
Mayfield is scheduled to go back before a judge early next month where he faces several felony charges.
Jeremy Mayfield's house being burned down. Firefighter training. #NASCAR Thanks to one of you who sent me pics. pic.twitter.com/jFNVlTUzN0

— Molly Grantham WBTV (@MollyGrantham) December 20, 2013
Another pic of Jeremy Mayfield house burning. #NASCAR #FirefighterTraining pic.twitter.com/7OLFScIltv

— Molly Grantham WBTV (@MollyGrantham) December 20, 2013
Former NASCAR driver Jeremy Mayfield's home being burned down now. Here's wild pic from viewer pic.twitter.com/jhGcCiJZSA

— Blair Miller (@BlairMillerTV) December 20, 2013
So they did burn Jeremy Mayfield's unfinished mansion. Big flames. pic.twitter.com/x1Ajvdyc5H

— David Whisenant WBTV (@DavidWhisenant) December 20, 2013
And final pic of Jeremy Mayfield house burning. #NASCAR #FirefighterTraining pic.twitter.com/VB6m46sGWU

— Molly Grantham WBTV (@MollyGrantham) December 20, 2013