This is an archived article and the information in the article may be outdated. Please look at the time stamp on the story to see when it was last updated.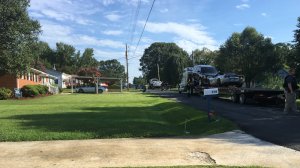 THOMASVILLE, N.C. — Investigators were seen swarming a neighborhood in Thomasville Friday morning.
At about 9:20 a.m., officials were loading four vehicles that appeared undamaged onto tow trucks on Conrad Street.
State Bureau of Investigation agents and IRS investigators were on scene focusing their efforts around one home.
A special agent with the IRS said she could not comment on why they were there.
FOX8 found out the property is owned by Steve A. Sloan.
Sloan also owns a landscaping business in Greensboro. When our crew went by the business, IRS investigators were on scene.
They appeared to have removed items from the building and were looking at cars in the parking lot.
According to the US Attorney's Office, Middle District NC, it could be between two to four weeks before any details are released.