This is an archived article and the information in the article may be outdated. Please look at the time stamp on the story to see when it was last updated.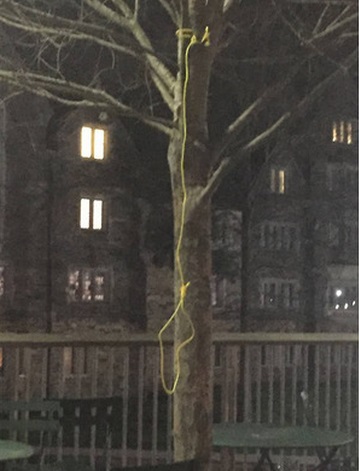 DURHAM, N.C. — Officials at Duke University told WRAL a noose was found hanging on a tree at the Bryan Center plaza Wednesday morning.
The Duke Chronicle reported that a photo of the noose, made with a thin yellow rope, was posted on social media. Several students said the incident was linked to racially charged motivations.
The noose was removed from the tree at about 2:45 a.m. on Wednesday, according to an email from the Vice President for Student Affairs, Larry Moneta.
"To whomever committed this hateful and stupid act, I just want to say that if your intent was to create fear, it will have the opposite effect," Moneta wrote in the email.
Authorities are now working to identify who hung the noose, according to WRAL.
Anyone with information about the incident should call Duke University police at (919) 684-2444.