This is an archived article and the information in the article may be outdated. Please look at the time stamp on the story to see when it was last updated.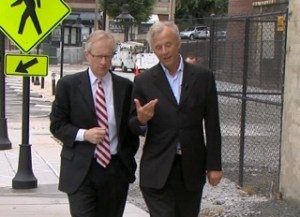 WINSTON-SALEM, N.C. — In all the talk about urban redevelopment in the Piedmont Triad, nothing stands out quite like what's happening in downtown Winston-Salem. It goes back about 15 years ago when the Wake Forest Baptist Medical Center began developing an area of east downtown which it called the "Piedmont Triad Research Park."
Today, the area's taken the name "Wake Forest Innovation Quarter" with much of the new development happening in what used to be R.J. Reynolds Tobacco Company warehouses and factories.
The Medical Center hired Eric Tomlinson to head up this effort in 2012. That same year, the Wake Forest Bio-Tech Place opened. This is primarily a large bio-tech research facility.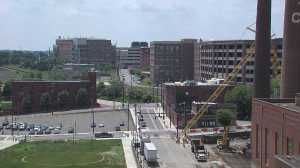 In back of Bio-Tech Place, in a former RJR building called "525 Vine," Forsyth Tech plans to open lab space to support its bio and nano-tech programs. Next door, in "635 Vine," the retail technology firm, Inmar, will add an information technology component to the Innovation Quarter and become its biggest employer with 900 workers.
"A year ago we probably had 800 people working in the Innovation Quarter," said Tomlinson. "By this time next year there will be 2,800 people. By the end of the year, there could be 3,000 people."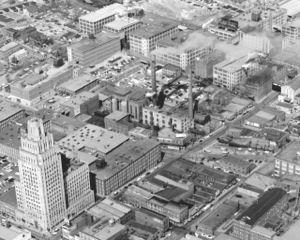 Tomlinson also sees these people not only working here, but living shopping and having fun here. That's where the former Bailey Power Plant comes in. Plans call for this former coal-powered plant that generated electricity and heat for all the RJR facilities to be turned into places where people can have fun.
"A great restaurant, a great shopping area, a really cool exhibition space, maybe something to do with the arts," said Tomlinson.
Plans also call for the Wake Forest Innovation Quarter to be developed south of Bus. 40 with more of an educational flair.  Already the Center for Design Innovation is under construction. This multi-campus research center of the UNC System is set to open next year.
"So, it's really engaging the pharmaceutical world, engaging the medical technology world, engaging the information technology world and synthesizing all that together in Winston-Salem," said Tomlinson. "What a great opportunity!"