This is an archived article and the information in the article may be outdated. Please look at the time stamp on the story to see when it was last updated.
Update 6:40 p.m. — Bryan McMasters, of Durham, claimed his share of a $520,734 Cash 5 jackpot on Wednesday, just two weeks before the ticket was set to expire.
McMasters purchased the ticket while traveling through Asheboro in August.
---
Original story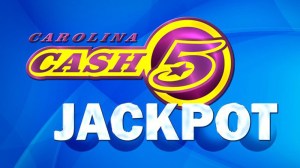 RALEIGH, N.C. — Carolina Cash 5 players in North Carolina, especially those in the Asheboro area, should check any tickets they have to see if they are the winner of an unclaimed $173,578 prize.
The winning ticket was purchased for the Aug. 8, 2014, drawing and will expire on Wednesday, Feb. 4. The ticket, sold at the Quik Chek on Sunset Avenue in Asheboro, matched all five balls in the drawing, beating odds of 1 in 575,757. The winning numbers for the drawing were:
5 – 13 – 21 – 24 – 33
"We're letting our customers know that they need to make sure they check their tickets," said Michelle Stanback, the store's manager. "We hope someone claims the money before it's too late."
The missing ticket was one of three that matched all five numbers in the drawing to split a $520,734 jackpot. The other two shares were claimed by a player in Greenville and another in Fayetteville.
Draw game tickets expire when they go unclaimed for 180 days after a drawing. By law, when that happens, half of the money goes to benefit education and the other half goes toward prizes awarded to future winners.