This is an archived article and the information in the article may be outdated. Please look at the time stamp on the story to see when it was last updated.
OKLAHOMA CITY -- An Oklahoma jail nurse is accused of performing an exorcism instead of helping an inmate having a seizure.
According to The Oklahoman, witnesses say 67-year-old Linda Herlong Jackson performed the exorcism instead of helping the combative inmate.
During the Feb. 10 incident, Jackson allegedly uttered the words, "I revoke you demons." A deputy was eventually able to step in and stopped the exorcism.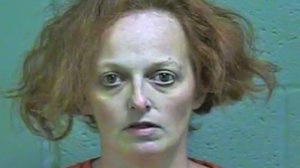 The inmate, identified as 32-year-old Amanda Freeman, died the next day. An autopsy determined she died from a coronary event due to methamphetamine use.
On Oct. 20, Oklahoma County Sheriff P.D. Taylor said Jackson nurse is no longer welcome at the jail. She worked at the jail for more than six years.
In an interview with detectives, Jackson denied the exorcism but said Freeman had supernatural strength.
"The patient didn't die by the way, on my shift," Jackson told the newspaper. "I would appreciate if you wouldn't try to sensationalize something that's already been settled — or so I thought."
As of Tuesday night, the nurse is not facing charges, KOCO reports.