This is an archived article and the information in the article may be outdated. Please look at the time stamp on the story to see when it was last updated.
MOORESVILLE, N.C. — A tractor-trailer accident has shut down Interstate 77 in Mooresville as fire crews work to clean up the mess.
The truck, which caught fire just after 3 a.m., is on the northbound side near the Brawley School Road overpass.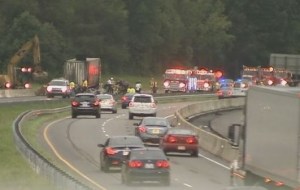 Firefighters cut the roof off the trailer as huge flames could be seen shooting out of the roof.
Firefighter said the truck was carrying tightly packed clothes inside small boxes, which have contributed to the fire.  Firefighters had to remove all the boxes to be able to put out the fire completely.
Officials said they think the truck scraped a barrier and possibly ruptured a fuel tank.
Fire officials said they have called in a Hazmat crew from Charlotte because of the fuel spilled on the roadway.
Fire crews were able to put out the fire around 6 a.m. 
Mooresville Fire Battalion Chief Jamie Barrier said they expect the delays to last until 1 p.m.
The driver of the truck suffered only minor injuries.
Source: WSOC