This is an archived article and the information in the article may be outdated. Please look at the time stamp on the story to see when it was last updated.
Michael, now a Category 4 major hurricane, is knocking on the threshold of Category 5 as it picks up speed.
The "extremely dangerous" hurricane now has maximum wind speeds of 155 mph, the National Hurricane Center reports.
If that number goes over 156 mph, Hurricane Michael will become a Category 5 hurricane.
"This is an unprecedented event as there are no Category 4 storms on record to have made landfall along the Florida Panhandle coast," a local hurricane statement from Tallahassee, Florida, said.
The last time a Category 5 hurricane hit Florida was Hurricane Andrew in 1992.
The hurricane made landfall near Panama City, just northwest of Mexico Beach, around 1:15 p.m.
Hurricane #Michael has made landfall just northwest of Mexico Beach, Florida. The latest public advisory is available on the NHC website: https://t.co/fniXaEmxWe pic.twitter.com/s4X21XtdX1

— National Hurricane Center (@NHC_Atlantic) October 10, 2018
By Wednesday night and Thursday, the storm will cut through the southeastern United States.
The hurricane is expected to maintain at least tropical storm level strength as it crosses Georgia, South Carolina and North Carolina.
The NHC predicts the hurricane will pick up forward speed Thursday through Friday night.
Flash flooding is the primary threat in central NC Thursday morning through Thursday night… here are potential rainfall totals for the FOX8 viewing area. #upwithFOX8 pic.twitter.com/9mH8IQFDJD

— ♌️ Emily Byrd 🌬 (@Em_I_Am) October 10, 2018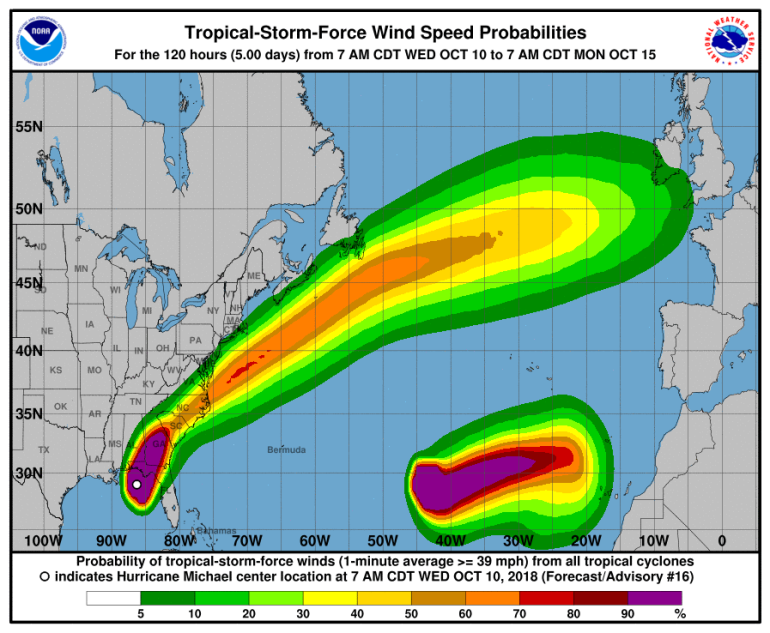 North Carolina State of Emergency
North Carolina Governor Roy Cooper announced a State of Emergency for the state as Hurricane Michael quickly approaches Florida and the South.
.@NC_Governor Cooper: This morning, a state of emergency was declared ahead of Michael. Restrictions on trucks and heavy vehicles have been waved to help the state prepare. 150 National Guard troops will report for duty this afternoon.

— NC Emergency Managem (@NCEmergency) October 10, 2018
Cooper made the announcement during a Wednesday press conference.
"Heavy rain and tropical storm force winds are heading our way," he said. "Make no mistake. Michael is a terrible storm. Many counties are under a Tropical Storm Warning or Tropical Storm Watch."
.@NC_Governor Cooper: Winds in Michael will be strong enough to down trees, rip up tarps and create additional damage. The hardest rain is expected Thursday to Thursday night. Up to 7 inches is expected in some areas.

— NC Emergency Managem (@NCEmergency) October 10, 2018
.@DirectorNCEM Mike Sprayberry: The State EOC will activate to level 3 at 1 pm today. Will be operating on 24/h basis. Continuing to monitor #HurricaneMichael closely. State emergency assets have been called in and are ready to deploy at a moments notice.

— NC Emergency Managem (@NCEmergency) October 10, 2018
The main threats
The storm's center and where it makes landfall with its destructive winds represent just one of several concerns. Among them:
• Storm surges of 9 to 12 feet could slam the coast from roughly Apalachicola to Cedar Key, Florida, with only slightly lower surges farther to the west along the Panhandle coast. "That means the water will come miles in shore and could easily be over the roofs of houses," Scott said.
• Heavy rain and flooding are expected not just for Florida but also for other parts of the Southeast. Up to 12 inches of rain could fall in Florida's Panhandle and Big Bend, southeastern Alabama and southern Georgia, while parts of the Carolinas — recently deluged by Hurricane Florence — and southern Virginia eventually could see up to 6 inches, the hurricane center said.
• Tornadoes could spawn in the Southeast on Tuesday night into Thursday, forecasters said.
• Damaging winds are expected to rake not just Florida but also southeastern Alabama and southern Georgia. If Michael's core comes ashore as a Category 2 or higher, it would be the strongest storm in terms of wind speed to make landfall in the country this year.
"You will see damage to infrastructure. You will see power outages," said Jeff Byard, associate administrator for the Federal Emergency Management Agency's Office of Response and Recovery.
'We need the residents to be leaving today'
A hurricane warning is in place from the Alabama-Florida border to the Suwannee River in Florida.
Meanwhile, tropical storm warnings extend from Florida's Chassahowitzka River to the Mississippi-Alabama border. Tropical storm watches are in effect in some coastal areas of Mississippi, Florida, Georgia and South Carolina.
Storm surge warnings are also in place along the Florida and Alabama coasts.
"This is a life-threatening situation. Persons located within these areas should take all necessary actions to protect life and property from rising water and the potential for other dangerous conditions," the hurricane center said.
US Rep. Neal Dunn, whose district includes Panama City, urged people under evacuation orders to get out before tropical-storm-force winds arrived. He focused on islands off the coast whose bridges may close as the storm approaches.
"You haven't got anywhere to go (if the bridges close)," he said Tuesday morning. "And then you're riding it out in your car instead of something else. So we need the residents to be leaving today … because by this evening, those bridges are going to be in peril of being closed."
Scott extended a state of emergency to 35 counties and activated 2,500 National Guardsmen for hurricane duty. He said tolls were being suspended in the state's northwest region to ease the evacuation process, and the Florida Highway Patrol is sending nearly 350 state troopers to the Panhandle and Big Bend areas.
Summary of watches and warnings in effect:
A Storm Surge Warning is in effect for…
Okaloosa/Walton County Line Florida to Anclote River Florida
A Storm Surge Watch is in effect for…
Anclote River Florida to Anna Maria Island Florida, including Tampa Bay
Ocracoke Inlet North Carolina to Duck North Carolina
A Hurricane Warning is in effect for…
Alabama/Florida border to Suwannee River Florida
A Tropical Storm Warning is in effect for…
Suwanee River Florida to Chassahowitzka Florida
North of Fernandina Beach Florida to Duck North Carolina
Pamlico and Albemarle Sounds