This is an archived article and the information in the article may be outdated. Please look at the time stamp on the story to see when it was last updated.
Conditions in the US Virgin Islands deteriorated Tuesday evening as Hurricane Maria's ripping winds began to batter the Caribbean island, hours after the storm obliterated parts of Dominica and killed at least one person in Guadeloupe
The Category 5 hurricane with sustained winds of 175 mph (281 kph) will smash into the Virgin Islands Tuesday night and Puerto Rico on Wednesday morning.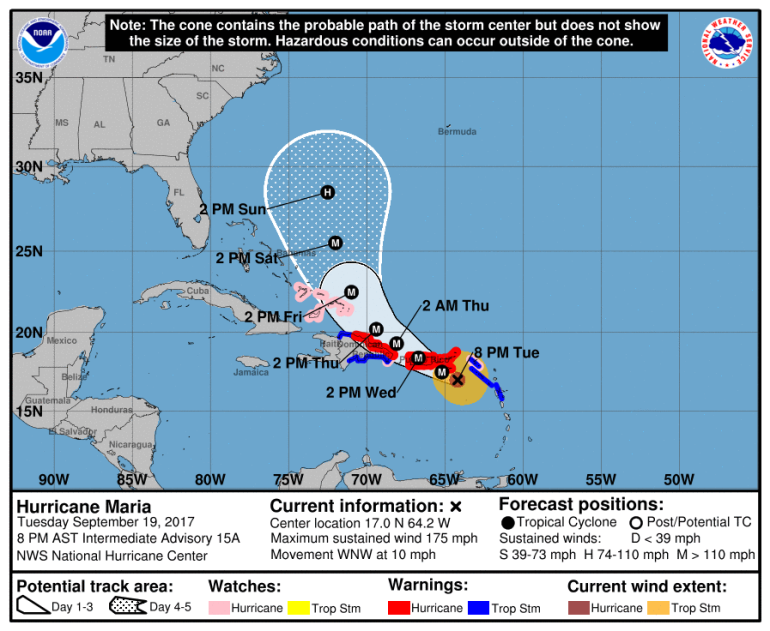 Residents of Puerto Rico, who were spared some of Irma's wrath when that hurricane's core passed north of the island, boarded up homes and businesses Tuesday. People who fled to the US territory as Maria advanced on their islands sought shelter.
Jessica Mangiaracina and Bob Perkins came to San Juan from St. Thomas with their two children. Irma destroyed everything around them and threw the island into chaos.
It took them six days to get off St. Thomas, they said, killing chickens for food and making their way through areas being looted.
They got to Puerto Rico by catamaran, where, like many others, they tried to get a flight out with no success.
Now they are coping with the reality that they've escaped into the middle of Hurricane Maria's angry path.
When asked what their current plan is, Perkins responded, "survive."
The couple is among thousands of people in shelters.
Millions of Puerto Ricans are hoping to survive what could be the most powerful storm to ever hit the island. Maria could be the first Category 4 or 5 hurricane to make landfall in Puerto Rico in more than eight decades.
"No generation has seen a hurricane like this since San Felipe II in 1928," Puerto Rico Gov. Ricardo Rosselló said Tuesday. "This is an unprecedented atmospheric system."
Rosselló urged Puerto Ricans to find safe shelters immediately, as emergency workers "will not be available to help you once the winds reach 50 mph."
"We need to keep in mind that we must also protect the lives of these first responders. It's time to act and look for a safe place if you live in flood-prone areas or in wooden or vulnerable structures," Rosselló said.
Maria has already killed one man in Guadeloupe after he ignored orders to stay inside and was struck by a falling tree, the island's government said.
Man killed by falling tree in Guadeloupe
Two other people are missing after a boat sank off the coast of La Désirade, a smaller island near the mainland of Guadeloupe. The government said about 80,000 people, or 40% of the households on the island, are without power.
The storm also caused "widespread devastation" in Dominica, Prime Minister Roosevelt Skerrit said Tuesday.
The hurricane shredded the prime minister's house overnight and left much of the island -- population 73,000 -- in ruins.
"So far we have lost all what money can buy and replace," Skerrit posted on Facebook Tuesday. He said his greatest fear was "news of serious physical injury and possible deaths as a result of likely landslides triggered by persistent rains."
A few hours earlier, the Prime Minister posted, "My roof is gone. I am at the complete mercy of the hurricane. House is flooding."
Maria is now the strongest hurricane on record to make landfall in Dominica, a former French and British colony whose economy relies heavily on tourism and agriculture.
'Don't go out under any circumstances'
As of Tuesday evening, Maria was centered about 70 miles (112 kilometers) southeast of St. Croix -- putting the island within reach of Maria's tropical-storm force winds -- and was headed west-northwest at 10 mph. At the speed it was going, Maria was less than 18 hours from San Juan.
While Maria moves closer to St. Croix, the Virgin Islands and Puerto Rico, preparations against life-threatening storm surge, flooding and destructive winds "should be rushed to completion,' the National Hurricane Center said.
Puerto Rico said its biggest airport, the Luis Muñoz Marín International Airport near San Juan, will close at 7 p.m. ET Tuesday. Airports in Ponce.
A hurricane warning is in effect Tuesday for St. Kitts and Nevis, Montserrat, the US and British Virgin Islands, Puerto Rico, Culebra, Vieques and part of the Dominican Republic.
Puerto Rico says Maria 'will be catastrophic'
Maria could bring up to 2 feet of rain and a storm surge of up to 9 feet to Puerto Rico, sparking flooding and mudslides, CNN Meteorologist Allison Chinchar said.
In the capital city of San Juan, residents cleared store shelves of water and other supplies.
A CNN producer who was driving from the airport Tuesday said there were still some vehicles on the road. Of the two gas stations she passed, one was open. Many shops were already closed, she observed.
Some tourists from California told her that the hostel they are staying at moved them to an interior room when the men were unable to find flights home.
Gov. Rosselló has declared a state of emergency. And US President Donald Trump issued an emergency declaration for Puerto Rico to aid with federal assistance.
Puerto Rico sheltered many of the evacuees who fled from other Caribbean Islands during Hurricane Irma earlier this month. Now those evacuees and native Puerto Ricans are bracing for devastation.
"This is an event that will be damaging to the infrastructure, that will be catastrophic," Rosselló said. "Our only focus right now should be to make sure we save lives."
The governor said 500 shelters are available on the island.
"We expect to feel storm winds, tropical storm winds, (from) Tuesday up until late on Thursday. That's about two-and-a-half days of tropical storm winds," Rosselló said.
"On Wednesday we will feel the brunt -- all of the island will feel the brunt of sustained Category 4 or 5 winds."
The Puerto Rico Convention Center in the capital San Juan to the north -- which is still housing Hurricane Irma evacuees from other Caribbean islands -- is preparing to accept thousands of residents as the worst of the storm is felt.
Martinique largely spared
One bit of good news emerged from the Caribbean: The French island of Martinique suffered no major damage, the French Interior Ministry tweeted Tuesday.
Maria knocked out power to about 50,000 homes, and 10,000 homes had no water. But overall, the damage assessment was "reassuring," the French Interior Ministry said.
The director general of French civil security, Jacques Witkowski, said only two people on Martinique suffered minor injuries.
Rapid intensification
In just 30 hours, Maria's intensity exploded from 65 mph on Sunday to 160 mph by Monday night, the National Hurricane Center said.
The British Foreign Office said more than 1,300 troops are on standby, either on affected islands or in nearby locations, ready to help after Maria tears through.
One military team has been deployed to the British Virgin Islands, and a British military reconnaissance team is on standby to go to the British territory of Montserrat.
The HMS Ocean is set to arrive in the area at week's end with 60 tons of government supplies.
Another hurricane, Jose, is also churning in the Atlantic and has spawned tropical storm warnings for part of the US East Coast.
While forecasters don't anticipate Jose making landfall in the US, it's still expected to cause "dangerous surf and rip currents" along the East Coast in the next few days, the hurricane center said.