This is an archived article and the information in the article may be outdated. Please look at the time stamp on the story to see when it was last updated.
Note: This may not be the most recent forecast, please visit www.myfox8.com or open the FOX8 app for the very latest on Hurricane Florence.
Hurricane Florence has held onto its power as a Category 4 hurricane as it drives through toward the Carolinas, according to the National Hurricane Center.
Florence has remained solidly at a Category 4 since noon Monday. At 5 a.m. Tuesday, the NHC placed maximum sustained winds at 140 mph.
"Now as it continues to move to the west, yes, it may gain a little bit of strength, not enough to bump it up to a Category 5, but a Category 4 is a major and potentially catastrophic hurricane," said FOX8 Meteorologist Emily Byrd.
NHC forecasters expect "some strengthening" over the next day or so.
By 5 a.m., the hurricane was about 975 miles out from Cape Fear, North Carolina, and moving west at about 15 mph.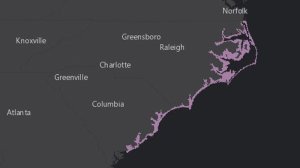 The National Hurricane Center issued a Storm Surge Watch and Hurricane Watch for the Carolina coasts ahead of potentially life-threatening conditions, the NHC reports.
The watch extends from Edisto Beach, South Carolina, all the way up to the North Carolina-Virginia border.
Areas under the Storm Surge Watch could see life-threatening inundation with rising waters moving inland from the coast over the next two days.
With a combination of storm surge and tides, areas along the coasts could see up several feet of flooding.
If peak surge hits during high tide:
South Carolinas' Murrells Inlet to North Carolina's Cape Fear could see 4 to 6 feet.
Cape Fear to Cape Lookout could see 6 to 12 feet.
Cape Lookout to Ocracoke Inlet could see 5 to 8 feet.
Ocracoke Inlet tot he North Carolina-Virginia border could see 3 to 5 feet.
Large, destructive waves may join the surge along the immediate coast in areas of onshore winds.
Florence is forecasted to remain an "extremely dangerous major hurricane" through Thursday, the day when it's expected to reach the Carolinas.
During a press conference Monday morning, N.C. Gov. Roy Cooper said his state is "in the bull's-eye" of the storm.
The center of the hurricane was forecast to move between Bermuda and the Bahamas on Tuesday and Wednesday and approach the southeastern coast of the US on Thursday as a Category 3 storm or higher, according to the hurricane center.
Large swells generated by Florence are already affecting Bermuda and portions of the East Coast and will continue this week, the hurricane center said.
"These swells are likely to cause life-threatening surf and rip currents," the National Hurricane Center said.
Governor Roy Cooper is urging North Carolina residents, businesses and visitors not to delay preparations and to follow evacuation orders. https://t.co/6IXj7HH75M pic.twitter.com/vm1ZfAPJ2l

— Governor Roy Cooper (@NC_Governor) September 11, 2018
Just had calls with South Carolina Governor Henry McMaster, North Carolina Governor Roy Cooper, and Virginia Governor Ralph Northam regarding the incoming storm. Federal Government stands by, ready to assist 24/7.

— Donald J. Trump (@realDonaldTrump) September 10, 2018
State of Emergency
Gov. Roy Cooper issued a State of Emergency on Friday in anticipation of the hurricane.
"While it's still too early to know the storm's path, we know we have to be prepared," Gov. Cooper said, according to a press release. "During harvest, time is of the essence. Action today can avoid losses due to Florence."
Cooper said he declared the State of Emergency and waived transportation rules to help farmers harvest and transport their crops more quickly.
President Donald Trump approved emergency declarations for North Carolina and South Carolina on Monday.
The president ordered federal assistance to supplement state, tribal and local response efforts due to the emergency conditions resulting from Hurricane Florence.
The president's action authorizes the Federal Emergency Management Agency to coordinate all disaster relief efforts which have the purpose of alleviating the hardship and suffering caused by the emergency on the local population and to provide appropriate assistance for required emergency measures, according to a statement from the White House.
FEMA is authorized to identify, mobilize and provide at its discretion, equipment and resources necessary to alleviate the impacts of the emergency.