This is an archived article and the information in the article may be outdated. Please look at the time stamp on the story to see when it was last updated.
Newspapers reacted to Donald Trump's stunning victory on Election Night with historic headlines.
The New York Times ran the headline "Trump Triumphs."
As for the New York Daily News, a newspaper critical of Trump throughout his campaign, it showcased a front page that read "House of Horrors" with an upside down American flag — a signal of distress.
Here's a selection of how some of the nation's newspapers reacted to the historic night: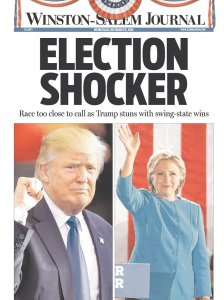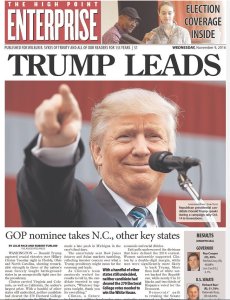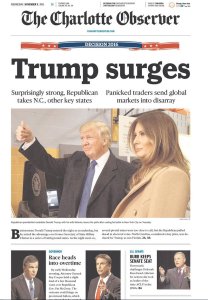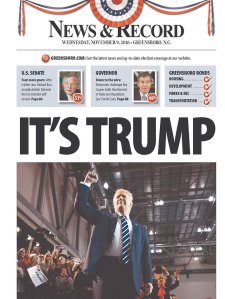 Trump triumphs: Here is the front page of Wednesday's Washington Post pic.twitter.com/xKbpEzPNXK

— The Washington Post (@washingtonpost) November 9, 2016
The front page of The New York Times, Nov. 9, 2016.

Follow https://t.co/eMyFEYiHno for live updates. pic.twitter.com/zmbtVvir7j

— The New York Times (@nytimes) November 9, 2016
This morning's front page: https://t.co/BpQFNsWl5E pic.twitter.com/MJU7fVbZD3

— Los Angeles Times (@latimes) November 9, 2016
Our front page for Wednesday:
HOUSE OF HORRORS: Trump seizes Divided States of America https://t.co/KKePm7uBhV #ElectionNight pic.twitter.com/HcuYeizg3j

— New York Daily News (@NYDailyNews) November 9, 2016
Tomorrow's front page of the Herald. https://t.co/eEH8m1plEu pic.twitter.com/RjtdCeGYh9

— The Sydney Morning Herald (@smh) November 9, 2016
Our latest edition: Trump the outsider within reach of the White House https://t.co/Dinai8V7Nj #tomorrowspaperstodays pic.twitter.com/8h7oWy7fb9

— The Times (@thetimes) November 9, 2016
Today's 9.30am @Independent front page update. To subscribe https://t.co/ozdV9Zd9Si pic.twitter.com/5NItwKGKsR

— The Independent (@Independent) November 9, 2016
Tomorrow's @theheraldsun front page tonight #auspol pic.twitter.com/O6KopdvGkU

— Damon Johnston (@damonTheOz) November 9, 2016