This is an archived article and the information in the article may be outdated. Please look at the time stamp on the story to see when it was last updated.
GREENSBORO, N.C. -- A University of Virginia fan wearing a "cheap" orange tie purchased at Walmart snuck on the court during the ACC Championship at the Greensboro Coliseum.
Danny Foley, of Henrico, Va., originally shared his story with barstoolsports.com on Wednesday.
He spoke to several other media outlets on Thursday.
Foley, a James Madison University student, said he drove to the game with his parents and stopped at Walmart to purchase a blue blazer and an orange tie that would match the attire worn by the UVa coaches and staff.
Danny shared photos of him shaking hands with coach Mike Krzyzewski and posing with the ACC Championship trophy.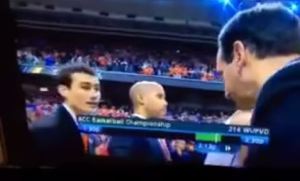 "It's like the 'Wedding Crashers,' " UVa coach Tony Bennett told Roanoke.com, referring to a 2005 movie. "If it were Vince Vaughn, I probably would have recognized him."
Foley told NBC12 no one from the ACC or the University of Virginia have contacted him about the incident.
Foley told NBC12 he "wasn't nervous" when he approached an usher near the court before the game.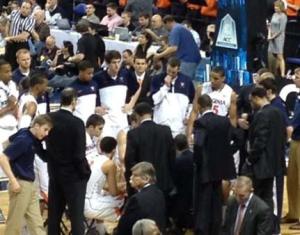 "Without batting an eye, the usher pulled back the curtain and opened the gate," he recounted.
Foley said he went back and forth between the court and his seat a few times without any issues.
"I was at a loss for words and when I shook Coach K's hand, it hit pretty hard," Danny told NBC12.
Foley said he was eventually questioned by Virginia's Director of Basketball Operations and, at that point, quickly made his way to his car and headed home.
Sources: barstoolsports.com, Roanoke.com and NBC12