This is an archived article and the information in the article may be outdated. Please look at the time stamp on the story to see when it was last updated.
Marvel Studios needs to stop because it's making every other film studio look really bad.
"Guardians of the Galaxy Vol. 2" offers audiences much of the same as its predecessor — a fun, action-packed space movie with quick-witted characters, a near flawless script and a perfect score.
The movie is directed by James Gunn ("Guardians of the Galaxy," Melvin Goes to Dinner") and features a high-powered cast of Chris Pratt ("The Lego Movie," "Zero Dark Thirty") as Star-Lord, Zoe Saldana ("Star Trek," "Premium") as Gamora, Bradley Cooper ("Silver Linings Playbook," "Americal Hustle") as Rocket Raccoon, Dave Bautista ("Guardians of the Galaxy," "Spectre") as Drax and Vin Diesel ("Fast and the Furious," "Saving Private Ryan") as Baby Groot.
To keep the plot simple, the film picks up where the "Guardians of the Galaxy" left off. The team, still trying to get to know each other, finds themselves in another battle with a force trying to destroy the universe. The sequel, however, focuses a bit more on relationships and in particular, family.
Overall, the movie features more jokes, more drama, and a whole lot more Baby Groot.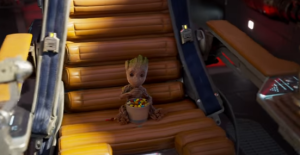 Simply put: If you enjoyed the first "Guardians of the Galaxy," you'll probably dig this one.
The best things about it? The cast's chemistry is unparalleled and Marvel does a terrific job with the rival/boss characters.
The beautifully-paced 137-minute film is fun and just as entertaining as anything I've seen so far this year.
Rottentomatoes gave "Guardians of the Galaxy Vol. 2" a smooth 81% and while that's a respectable rating, I'd settle at 88%.
Thoughts: The movie was everything I expected it to be — nothing more, nothing less. The cast was dynamic, the score was on-point and I enjoyed the film throughout.
My past reviews:
Get an exclusive inside look at the #GuardiansoftheGalaxyVol2 soundtrack https://t.co/SFhY1D6WF3 pic.twitter.com/eYZ86q5GVc

— Rolling Stone (@RollingStone) April 19, 2017