This is an archived article and the information in the article may be outdated. Please look at the time stamp on the story to see when it was last updated.
GUILFORD COUNTY, N.C. — A High Point man says he came home to find several people stealing from him.
Police say when the man returned to his home on Wheeler Avenue this afternoon, he found a man in a black vehicle trying to leave his driveway.
When the victim noticed his own car coming up behind the black vehicle, he tried to block them from leaving. That's when police say one of the thieves started shooting at him.
An officer later spotted the stolen vehicle but says the driver sped off at more than 100 mph.
Officers later found three of the suspects — all from Lexington — inside a Walmart in Greensboro.
Investigators are still looking for another suspect, who is believed to be the shooter.
Police believe they also stole items from the victim's home and say they will face charges.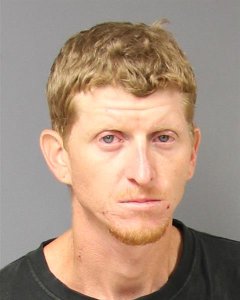 Timothy Mark Gough, 32, is charged with speeding, habitual larceny, breaking and/or entering, obtaining property by false pretense, three counts of failure to appear on a misdemeanor, two counts of resisting/delaying/obstructing a public officer, larceny of a motor vehicle, larceny of a firearm, larceny, second degree trespassing, driving while license revoked after impaired revocation notice, failure to stop for a siren, driving left of center and hit and run with property damage.
His bond was set at $476,000.
Charges for the other two people charged have not yet been released.