This is an archived article and the information in the article may be outdated. Please look at the time stamp on the story to see when it was last updated.
HIGH POINT, N.C. — It's a staggering number that is the result of a complicated statewide problem. The High Point Police Department responded to 191 heroin overdoses in 2016, a record high. This nearly triples the 2015 total of 77 overdoses and dwarfs the 2014 previous record high of 116 overdoses.
This was not, however, the deadliest year for heroin overdoses in High Point. Nine people died because of the drug in 2016, compared to six people in 2015 and 14 deaths in 2014.
This may be a result of High Point police rolling out Narcan, an overdose reversal drug, within the department this past September. Since then, they've administered the drug 17 times.
Treatment is a large issue, as multiple people overdosed in High Point more than once. High Point police say 14 people overdosed 35 times, with some of those people overdosing up to three times.
"There is no way we will be able to arrest and incarcerate every individual who's dealing heroin inside the city," said Assistant Chief Travis Stroud, on addressing the heroin supply in the city. "I have no idea what that number is, as far as individuals go, but it's a lot."
Regardless of arrests, Stroud says the convictions are the priority to make sure dealers don't get back out on the streets. Building a case for those convictions takes time and resources. And the same goes for dealers who sell deadly batches of heroin to users, the stakes are higher and the charges more consequential.
"It's not specific to High Point," Stroud said. "It's every city is getting it right now. Some may not want to admit it, but they've got it."
According to the North Carolina Department of Health and Human Services, heroin and prescription opioid medication deaths have skyrocketed over the past couple of years. There were 364 heroin related deaths in North Carolina in 2015, the fastest growing statistic in recent years. Astonishingly, the number of deaths caused by prescription drug overdoses, like oxycodone, hydrocodone and methadone, more than double the deaths for heroin in 2015 at 738. At this rate, the department projects drug related overdoses could bypass vehicle accidents as the leading cause of injury death in North Carolina in 2017.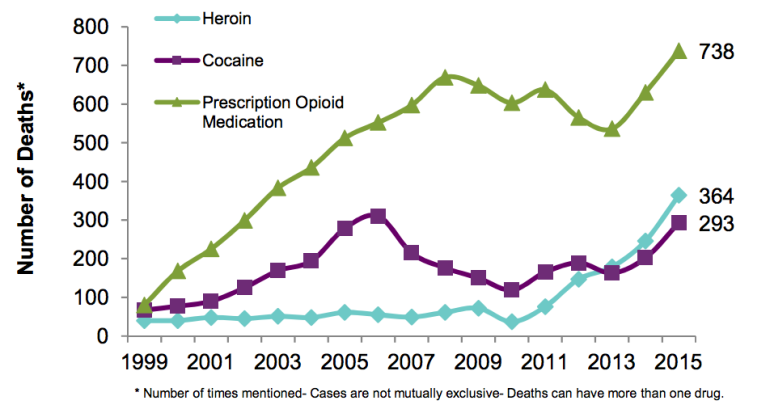 "It's a wave of destruction coming through," said Jason Yates, who works at Caring Services, a High Point treatment center.
"One of the biggest problems we've had is with capacity, and that's largely tied to funding," Yates said.
Caring Services has 108 beds and a high demand for a continuous wait list for its services. Yates says if it had 20 more beds, the center could fill them easily within a month or two.
Most of its funding is set by the state, which Yates says has cut funding for substance abuse and mental health services by a quarter billion dollars over the past two years. With people in need of treatment going up exponentially, Yates says the funding is trending in the opposite direction and lawmakers need to step up.