This is an archived article and the information in the article may be outdated. Please look at the time stamp on the story to see when it was last updated.
A 53-year-old man who walked into a San Bernardino elementary school classroom and opened fire was targeting his estranged wife, the teacher, to whom he had only been married a few months, authorities told KTLA.
Cedric Anderson walked onto campus at North Park Elementary under the guise of dropping something off for his wife but instead pulled out a long-caliber revolver and opened fire on her without saying a word, according to San Bernardino Police Chief Jarrod Burguan.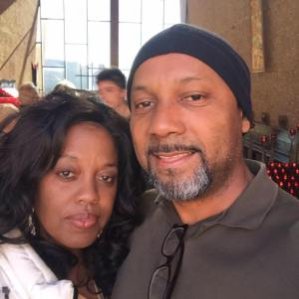 Karen Smith, 53, who taught students with special needs, died at the scene, as did Anderson, after he finished unloading a round that also struck two of Smith's young students, reloaded and shot himself, police said. One of the boys, 8-year-old Jonathan Martinez, later died at the hospital, while another 9-year-old boy is listed in stable condition.
The couple was wed Jan. 28 at Bethesda Temple Church in the Hyde Park neighborhood of South L.A., a wedding invitation posted on Evite shows.
On Feb. 6, Anderson posted a video to Facebook from their honeymoon in Sedona in which the couple appears blissful and carefree.
"We're having such a good time," Smith says with a smile.