This is an archived article and the information in the article may be outdated. Please look at the time stamp on the story to see when it was last updated.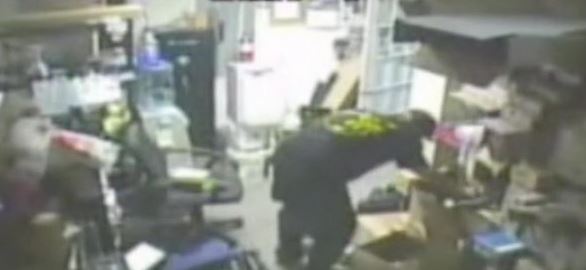 PHOENIX, Ariz.– A thief was caught on camera apparently stuffing guns down his pants at a gun shop in the north Valley.
Phoenix police say the crook had two accomplices in the crime, which happened last month. At least one suspect in the case was arrested Thursday when police raided a condo, reported KTVK.
The Oct. 3 burglary happened at Shooters Vault at 3202 E Greenway Rd. The owners did not want to speak on camera, but they were more than happy to show 3TV the surveillance video of the criminals in the act. The store's multiple surveillance cameras caught the trio in the act.
In the video, you can see two men distract the employee at the counter while another slips into the back room, pulls down his pants, and stuffs his drawers with guns.
"I heard a big bang, so I came out on my balcony, and then I saw all the police cars and I saw the SWAT team, and they were breaking down the door," said Catherine Karlsson. She watched the raid unfold from the balcony of her north Phoenix Cobalt condo at 32nd Street and Union Hills Drive. "I was nervous. I thought I shouldn't be on the balcony; maybe I'll be shot out here."
Karlsson says she couldn't help but watch because the activity was rather unusual for this community. She did, however, recall a rather suspicious meeting about a week ago.
"Some guys come in there with hoodies and they're knocking a long time on the door before they open," she said. "When they open, they only open a little, and I said to myself, 'That's strange.' "
Detectives recovered multiple firearms from a large gun safe inside the garage. The suspect sat handcuffed and desperately tried to hide his face from our camera.
Investigators expect more arrests soon and credit the owners of Shooters Vault for being vigilant.
"That's just it. You don't know, and you want to stop it as soon as you can. You identify this and put a stop to it as soon as you can," said Phoenix Police Sgt. Jerry Peterson.
The suspects face charges including burglary and weapons misconduct.