This is an archived article and the information in the article may be outdated. Please look at the time stamp on the story to see when it was last updated.
RALEIGH — A woman arrested during a raid at a Raleigh nightclub faces additional charges after authorities at the Wake County Detention Center found a gun in her hair weave after her arrest.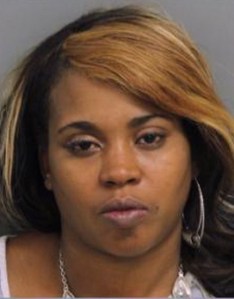 Tiffanie Lizette Bass, 32, of 408 S. Broad St., was charged with resisting an officer, carrying a concealed weapon and possession of a stolen firearm.
According to WTVD, Bass was being processed at the jail when it was discovered she had a .38-caliber handgun.
Sheriff Donnie Harrison, who oversees the jail, said deputies noticed Bass walking out of a bathroom with her head leaning to one side. That's when they searched her and found the gun.
It was unclear why the gun wasn't found before Bass arrived at the jail.
Bass remains in jail under a $65,000 bond.