This is an archived article and the information in the article may be outdated. Please look at the time stamp on the story to see when it was last updated.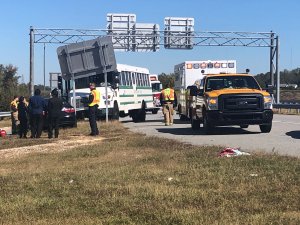 GUILFORD COUNTY, N.C. — A white Guilford County activity bus was involved in a crash on Interstate 85 in Guilford County.
According to Highway Patrol, a car with 3 people inside hit the bus as the car was trying to merge right across the bus's lane. The two vehicles stopped at the exit for I-74 south.
Only two people were on the bus, headed to Kersey Valley.
No students were on board at the time, according to the Guil-Rand Fire Department.
No injuries were reported.