This is an archived article and the information in the article may be outdated. Please look at the time stamp on the story to see when it was last updated.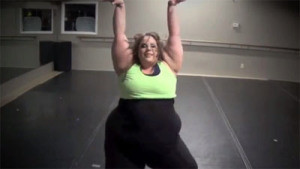 GREENSBORO, N.C. — "Producer Whitney" from 107.5 is about to get a much larger fanbase — she's getting her own TV show, according to People magazine.
Whitney Thore left KZL earlier this year to promote her "No Body Shame" campaign. She became a viral sensation with her "Fat Girl Dancing" videos posted on YouTube.
Now, Thore will have her own series on TLC called "My Big Fat Fabulous Life." The series will follow the 30-year-old as she learns to embrace her body and love herself again.
People magazine reported that the show will feature Thore – weighing 380 pounds – around her home in Greensboro that she shares with her parents.
Thore was once a slim dancer, weighing less than 120 pounds. But she was diagnosed with  polycystic ovarian syndrome and quickly gained more than 200 lbs, according to the magazine.
The show premieres Tuesday, Jan. 13 at 10 p.m. ET on TLC. It's a nine-part series.