This is an archived article and the information in the article may be outdated. Please look at the time stamp on the story to see when it was last updated.
GREENSBORO, N.C. -- A Greensboro store clerk is sharing her story exclusively with FOX8 after she says she was kidnapped, assaulted, and tied to a tree last Friday.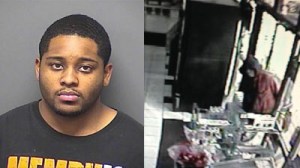 Police arrested Dejerod Clapp of Graham Tuesday night in connection with this case. Clapp, 23, was charged with first degree kidnapping, felonious restraint, robbery with a dangerous weapon, assault with a deadly weapon inflicting serious injury, assault by strangulation, assault on a female and communicating threats.
A young Greensboro mother who only wants to be identified as Sharon feels comfortable sharing her story now that Clapp is behind bars.
Sharon says she was working at the Pop Shoppe on Stanley Road last Friday morning when a man came in and said the car wash machine was not working properly.
Sharon followed the man outside to try to help.
"When I turned back around to go get my manager, that's when he grabbed me. He threw me in the car and he beat me," she said.
She says the man hit her around her head and face with a gun before taking her to the nearby woods.
She feared the worst.
"He taped up my legs. He taped my arms to my head," she said. "The majority thing that was really going through my head was my son. I have a six-month-old baby so I said please don't kill me sir. Please don't kill me. I have a baby."
The man finally left Sharon, but told her he would return.
"He tied me up with my scarf to the tree and my foot dropped. The scarf dropped a little bit, it loosened up. So when I felt it loosen, I kicked off my boots and that's when I shimmied enough to pop the tape and I ran," she said.
Sharon escaped to a nearby residence.
"The man and lady there couldn't have been nicer," she said. "They helped me get the police; they even offered me cookies and something to drink."
Police immediately started searching the area for evidence.
Captain Mike Richey said, "Basically the arrest was made on good old fashioned detective work and forensics."
While he couldn't elaborate on what evidence they found, he said they are confident Clapp is the suspect. He said they are still investigating a motive.
"Right now the appearance is that it's random. And random crimes are extremely extremely rare," Cpt. Richey pointed out.
Captain Richey advises everyone, especially during the holidays, to be hyper-aware of your surroundings and follow your gut when it comes to interactions with strangers.
"I've never seen this man before in my life," Sharon added, saying she is now sleeping a little easier. "I would tell the judge just lock him up. Keep him there 'cause that's where he deserves to be."
Clapp has a criminal history. Greensboro Police say he was charged with an assault-related crime in Durham County. He was charged for two assaults of women in Wake County in 2011. He was also picked up in Alamance County for a probation violation, and at the time was wanted for a felony assault charge. In addition, Clapp was charged and convicted with two felonies related to breaking and entering and larceny in Davidson County in 2012.
Officers arrested Clapp on Tuesday night at his home in Graham. He is currently being held in the Guilford County Jail under a $200,000 bond.
Police are still exploring the motive of this crime and are continuing the investigation.
Anyone with information on this case is asked to contact Crime Stoppers at 336-373-1000.