This is an archived article and the information in the article may be outdated. Please look at the time stamp on the story to see when it was last updated.
GRAHAM, N.C. -- Town officials approved, joining Mebane and possibly Alamance County, a 10.9 million dollar incentives package to lure Walmart Monday night. The world's largest retailer is looking at 186 acres off Interstate 40/85 at Trollingwood Road for a 440,000 square foot grocery distribution center that could create 450 jobs.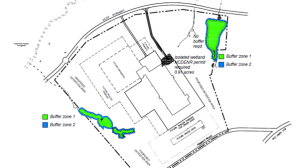 "450 jobs right now is so important to any county," said Graham Mayor Jerry Peterman. "We need the jobs."
Walmart officials told town leaders they plan to hire locally and the jobs would pay on average $35,000.
"The distribution center would serve stores in North Carolina, South Carolina, Virginia and Tennessee," said William Wertz a spokesman for Walmart. "Construction could begin as early as Spring 2015.
County economic officials believe the $85 million center would also help open doors to more companies. "Should this project occur ... we would be opening up 1,200 acres for future development which would mean more jobs and more tax base," said Mac Williams with Alamance County Chamber of Commerce.
Alamance County  Commissioners will meet Monday to vote on the incentives. If approved by county leaders, Walmart plans to make its decision by the end of next week.