This is an archived article and the information in the article may be outdated. Please look at the time stamp on the story to see when it was last updated.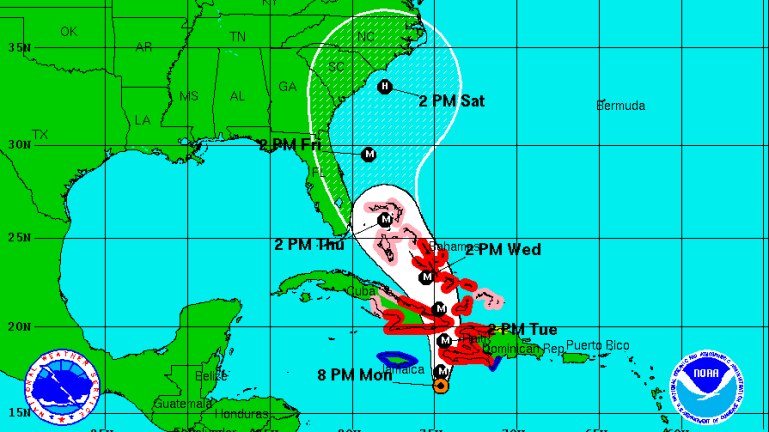 RALEIGH, N.C. — All eyes are on Hurricane Matthew as the Category 4 storm is forecast to near the North Carolina coast as early as this weekend.
"We're taking this storm very seriously," Gov. Pat McCrory said during a press conference Monday. "Even though this storm is several days out, we still don't know exactly what the storm track will be."
McCrory met with Emergency Management Director Mike Sprayberry to provide an update on the state's preparation for Hurricane Matthew.
"Right now the time track and intensity could very well change as it moves up past the eastern coast of the United States," Sprayberry said, adding that tropical storm-force winds extend 200 miles out from the eye of the hurricane.
"It's a strong storm, a big storm," Sprayberry said. "It will create issues for North Carolina even if it just hits us with a glancing blow."
McCrory declared a state of emergency for 66 counties in central-eastern North Carolina. Farmers, McCrory said, need time to deal with their crops, already heavily damaged by recent rains.
The emergency area is Alamance, Anson, Beaufort, Bertie, Bladen, Brunswick, Camden, Carteret, Caswell, Chatham, Chowan, Columbus, Craven, Cumberland, Currituck, Dare, Davidson, Davie, Duplin, Durham, Edgecombe, Forsyth, Franklin, Gates, Granville, Greene, Guilford, Halifax, Harnett, Hertford, Hoke, Hyde, Johnston, Jones, Lee, Lenoir, Martin, Montgomery, Moore, Nash, New Hanover, Northampton, Onslow, Orange, Pamlico, Pasquotank, Pender, Perquimans, Person, Pitt, Randolph, Richmond, Robeson, Rockingham, Sampson, Scotland, Stokes, Surry, Tyrrell, Vance, Wake, Warren, Washington, Wayne, Wilson and Yadkin counties.
"We want to make sure we have everything in place early prior to the potential of the hurricane hitting North Carolina," McCrory said. "If it comes, we want to be prepared as early as possible."
South Carolina's emergency preparedness officials have also begun preparing for Hurricane Matthew.
In a news release issued Sunday, the South Carolina Emergency Management Division recommended that the state's emergency response team review plans. Officials in four counties — Horry, Beaufort, Georgetown and Charleston — said they were on alert status.
Matthew remains a powerful Category 4 storm with winds of 140 mph.
The storm was expected to pass across or very close to the southwestern tip of Haiti late Monday before reaching Cuba, according to the U.S. National Hurricane Center in Miami.
Matthew briefly reached the top classification, Category 5. The hurricane center said it appeared to be on track to pass east of Florida through the Bahamas, but it was too soon to predict with certainty whether it would reach the U.S. coast.
A hurricane warning is in effect for Jamaica, Haiti, and the Cuban provinces of Guantanamo, Santiago de Cuba, Holguin, Granma and Las Tunas — as well as the southeastern Bahamas. A hurricane watch is in effect for the Cuban province of Camaguey, the Turks and Caicos Islands and Central Bahamas.
A tropical storm warning is in effect for the Dominican Republic from Barahona westward to the border with Haiti and a tropical storm watch is in effect for the Dominican Republic from Puerto Plata west to the border with Haiti.