This is an archived article and the information in the article may be outdated. Please look at the time stamp on the story to see when it was last updated.
SHELBY, N.C. — Shelby police arrested a 19-year-old man Saturday night in connection with the death of his 17-year-old girlfriend, Hannah Bickley.
WSOC-TV reported that Aaron Byers has been charged with murder, possession of a firearm by felon and attempted armed robbery.
Police said they do not believe Byers intended to shoot his girlfriend after interviewing two witnesses who are believed to have been the victims in this attempted robbery.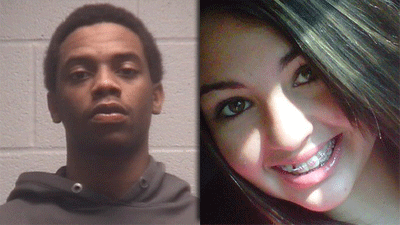 Shelby police said they responded just after 2:30 a.m. Saturday to a possible armed robbery where someone had possibly been shot.
They were flagged down by Byers, who told them Bickley had been shot on Holder Drive.
Police found Bickley in the vehicle with a single gunshot wound, and she was pronounced dead on the scene.
Additional details in the case have not yet been released.
"They had each other's name tattooed on them and they were always kissing and hugging on each other every time I saw them," said a neighbor who did not want to be identified.
Bickley's uncle, Brian Bickley, said she was a good kid who got involved with the wrong person.
"We did everything we could to try to get some separation between those two," her uncle said.
Hannah's family said they did not want her with Byers because of his violent criminal past.
The Cleveland County Sheriff's Office connected him as part of a group that committed 14 break-ins between October 2012 and March 2013. Officers also said at that time that all five suspects were affiliates with the Bloods Gang, targeting mostly electronics, jewelry and firearms.
Byers was charged with six counts of breaking and entering, seven counts of felony larceny and seven counts of possession of stolen property.
Byers was also due in court later this month for assault charges. He is also facing marijuana charges.
Hannah's family confirmed she was a senior at Cherryville High School and slated to graduate in the next several weeks.
"She had dreams of becoming a nurse," said Brian Bickley.  "She loved helping people." She was also planning on starting a job at a Waffle House restaurant on Monday.
Hannah's family hopes this tragedy is a lesson to other parents and teenagers."I know where she is at. She is with the Lord and I know I'll get to see her again," Brian Bickley said.
The police are continuing their investigation into Hannah Bickley's death.