This is an archived article and the information in the article may be outdated. Please look at the time stamp on the story to see when it was last updated.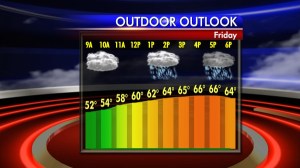 A mild breeze from the southwest will help our temperatures climb into the 60s today, but the warm up will be short-lived.
Cloudy skies and patchy drizzle will bring less than 1/10" to Piedmont rain gauges.  Despite the damp weather, we'll enjoy temperatures that top out in the mid 60s this afternoon.
Rain chances increase to 70 percent overnight, but the quantity of measurable rain in your gauge will be quite low.  Again, less than 1/10" is expected.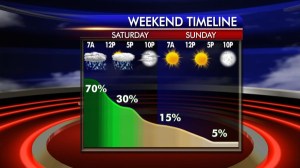 A cold front will cross the Piedmont before daybreak, but low temperatures will remain mild, near 50°.
Clouds with diminishing chances of rain will hold on in the forecast on Saturday.  Highs will be in the upper 50s.
On Sunday, we'll have loads of sunshine, but that won't be able to help temperatures warm up.  Expect it to be starkly colder with highs only near 39 degrees!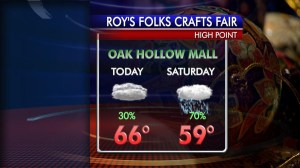 Head out to the Roy's Folks Crafts Fair today and tomorrow to see the amazing work by local artisans and do some holiday shopping.
We're gathering in the old JCPenney store, located at Oak Hollow Mall between 7 a.m. and 6 p.m. today and 10 a.m. to 6 p.m. on Saturday.
Click for more information about the Roy's Folks Crafts Fair.