This is an archived article and the information in the article may be outdated. Please look at the time stamp on the story to see when it was last updated.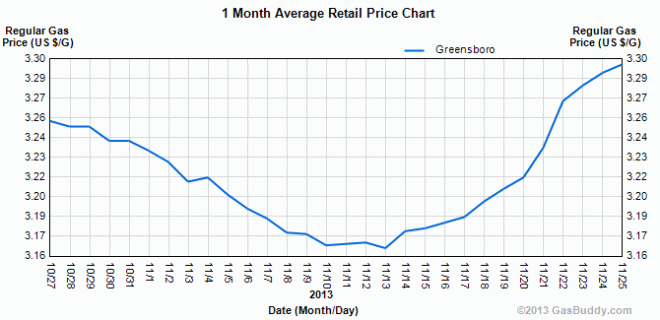 HIGH POINT, N.C. — Gas prices are on the rise across the Piedmont, according to data provided by GasBuddy.
Average retail gasoline prices in Greensboro have risen 10 cents per gallon in the past week, averaging $3.29 per gallon Sunday.
The prices peaked at $3.79 back in March.
Nationally, prices are up 5 cents per gallon over the past week to $3.26 per gallon.
The national average has decreased 5.4 cents per gallon during the last month and stands 17.4 cents per gallon lower than this day one year ago.
"The national average has seen its bounce continue in the last week across most of the nation," said GasBuddy.com Senior Petroleum Analyst Patrick DeHaan. "Some of the lows we saw just a couple weeks ago have vanished, replaced by higher digits as oil prices rallied. It will be an interesting week ahead as some notable progress emerged after developed countries came to a partial solution on Iran's nuclear ambitions. Just that action alone may result in significant downward pressure on oil prices as tough sanctions may soon be eased, allowing Iran's oil to flood an already well-supplied marketplace."