This is an archived article and the information in the article may be outdated. Please look at the time stamp on the story to see when it was last updated.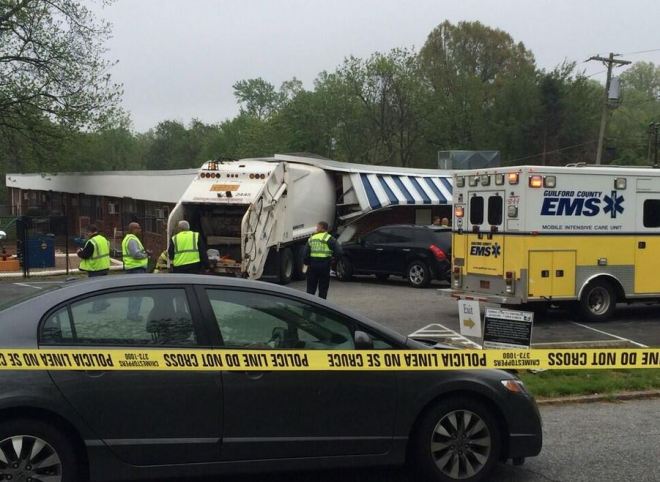 GREENSBORO, N.C. -- A garbage truck crashed into a daycare in Greensboro Tuesday morning, injuring two people.
The truck hit the Child Care Network located at 1405 Friendly Avenue around 10:30 a.m.
Officials say the  city-owned sanitation truck was traveling southbound on Hillcrest Road when it collided with a Honda Civic traveling eastbound on Friendly Avenue.
The truck continued through the parking lot and crashed into the side of the daycare, and through the exterior brick wall.
The truck crashed into the daycare kitchen.
The driver of the truck and a passenger were transported for minor injuries. The driver of the Honda was not injured.
Officials said 145 children were in the daycare at the time. None of the children were injured. The children are infants up to 6-years-old.
The incident closed all lanes of Friendly Avenue from Westover to Market Street for several hours.
Parents can pick up their children at West Market Street and Hillcrest Drive.
No charges have been filed.
Garbage truck is now out of the building pic.twitter.com/3ykMfv6bNq

— Stephanie Whitfield (@KHOUStephanie) April 29, 2014
After school activities at 'The Child Care Network' have been cancelled.

— J.D. Angel (@Roaming_video) April 29, 2014
Kids at Childcare Network daycare are infants to 6 years old. They're waiting to be picked up in school buses for now.

— Stephanie Whitfield (@KHOUStephanie) April 29, 2014
City of Greensboro official: 145 children in daycare. No injuries.

— Stephanie Whitfield (@KHOUStephanie) April 29, 2014
Just spoke with a parent who said their daughter heard a loud boom and thought it was a thunderstorm.

— J.D. Angel (@Roaming_video) April 29, 2014
Due to a car crash all west bound and east bound lanes are closed from W. Friendly at Westover to Market St. Updates to come from GPD.

— City of Greensboro (@greensborocity) April 29, 2014
@myfox8 PHOTO a garbage truck as crashed into a child are facility off of W Friendly Ave in GSO no word on injuries pic.twitter.com/n6HtQVrivq

— J.D. Angel (@Roaming_video) April 29, 2014
PHOTO @Myfox8 Friendly Ave is closed due to accident pic.twitter.com/DPVytnETAr

— J.D. Angel (@Roaming_video) April 29, 2014