This is an archived article and the information in the article may be outdated. Please look at the time stamp on the story to see when it was last updated.
GREENSBORO, N.C. – Friends are mourning the loss of a beloved Army veteran who was found beaten and burned in a hotel room in Greensboro last weekend.
Stephen Patrick White, 46, of Greensboro, died of injuries Saturday, about a week after he was found wounded in a room at the Battleground Inn.
Police said they found White badly burned after a fire that broke out on the fourth floor.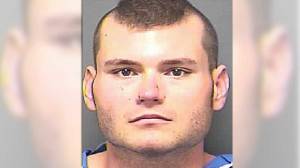 Authorities believe White left the Chemistry Nightclub gay bar in Greensboro with 26-year-old Garry Joseph Gupton, who has been charged in White's death. But police said they do not believe the murder was a hate crime.
About 4:30 a.m. last Sunday, police and firefighters raced to the hotel at 1517 W. Wendover Terrace. When authorities arrived, they found flames and smoke pouring from a fourth-floor room.
First responders found White, of 1722 Aspenshire Drive, unconscious in the room, and suffering from burns and smoke inhalation. Police arrested Gupton, of 1312 Wiley Lewis Road, at the hotel.
Paramedics took White to Wake Forest Baptist Medical Center, where he remained in critical condition. He died Saturday.
The suspect had been charged with aggravated assault with intent to kill. He is now charged with first-degree murder and has been fired from his job as a Greensboro city employee.
"We wish we knew what transpired in the hotel room," said Mikey Dickson, a friend of White's.
Dickson helped organize a silent auction for White's medical costs on Saturday. She said more than $4,000 was raised at the event held at the Q Lounge.
More than $10,000 has been donated through an online GoFundMe webpage account, she said. That money will now go toward burial costs.
White's funeral is scheduled for November 21st at 2 p.m. at St. Mary's Catholic Church in Greensboro.
Dickson and her friends are hoping to change the laws in North Carolina to help protect the gay community from hate crimes.
Instead of how White died, Dickson wants others to remember him for his bravery as an Army Veteran and a devoted friend to so many in the community.
"You would have never known that he had fought in Iraq or served in the military for as long as he did," she said. "He was just that kind of person that went out of his way for anybody."