This is an archived article and the information in the article may be outdated. Please look at the time stamp on the story to see when it was last updated.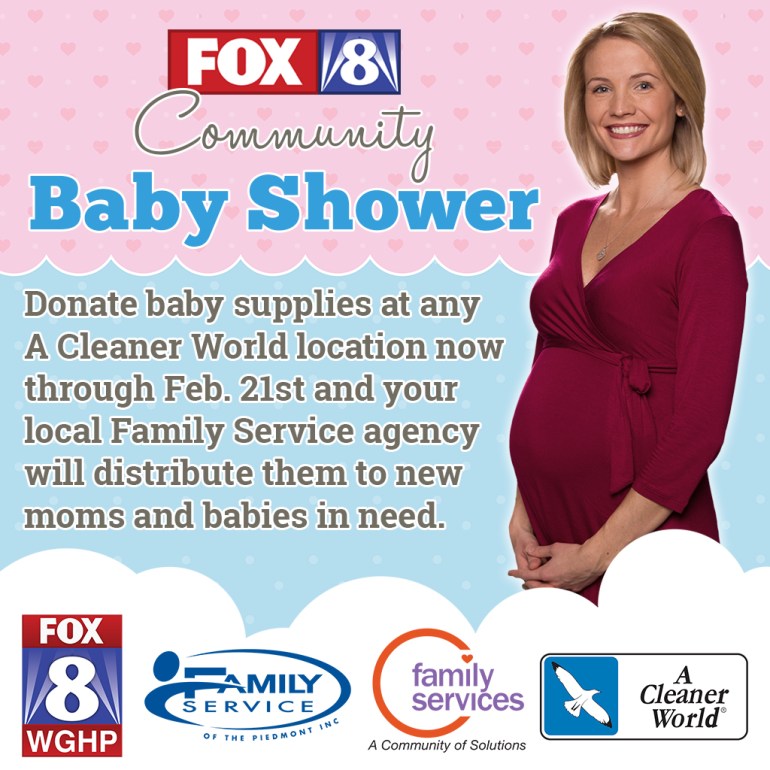 The FOX8 Community Baby Shower is underway! Join FOX8'S Katie Nordeen in donating items essential for new moms and babies in need.
Donate your items — formula, diapers, toys, wipes, bottles and more — to any Piedmont Triad A Cleaner World location during business hours. The baby supplies will be donated to Family Services and Family Services of the Piedmont to help new moms and babies in need.
The FOX8 Community Baby Shower runs through Feb. 21. For a list of A Cleaner World locations, click here.
Let's help moms and babies get started on the right foot!
FOX8's Katie Nordeen sat down with one local mom who knows firsthand just how critical this kind of help is.
Donations are pouring in to A Cleaner World in Burlington.
Piedmont foster moms understand the need for basic baby items.
Thanks to FOX8 viewers, the Community Baby Shower is going to bless a lot of local moms and babies in need. Katie Nordeen introduces us to one of those moms:
It's not just adults pitching in to donate to the FOX8 Community Baby Shower. Check out how the awesome students at Vienna Elementary in Forsyth County are helping out too!