This is an archived article and the information in the article may be outdated. Please look at the time stamp on the story to see when it was last updated.
FORSYTH COUNTY, N.C. — A former substitute teacher for Winston-Salem/Forsyth County Schools pleaded guilty today to a misdemeanor charge connected to an incident in 2013 when he accidentally left a handgun in the front seat of his car while it was parked on school property.
George Frederick Hall II, 28, of Oak Ridge, was charged last May with possession of a weapon on a school campus, a felony.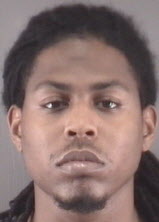 Hall had been a substitute teacher at Philo-Hill Magnet School.
Hall pleaded guilty this morning in Forsyth District Court to misdemeanor attempted possession of a weapon on school property.
Judge George Bedsworth of Forsyth District Court gave Hall a "prayer for judgment," which means that no punishment was imposed.
Assistant District Attorney Ben White said the incident occurred May 9, 2013. Earlier that day, Hall had been stopped for a traffic infraction.
As required by law, Hall, who had a concealed carry permit, told the officer he had a gun in his car and displayed it on the front seat.
After he was issued a traffic ticket, Hall ran a few errands before arriving at Philo-Hill Magnet School, at 410 Haverhill St.
While at school, his car alarm went off, and police discovered the gun while investigating. According to authorities, Hall was cooperative and claimed ownership of the gun.
Chris Beechler, Hall's attorney, said Hall forgot to take the gun back to his house after running his errands. Hall told police he had accidentally left the weapon in his car after visiting a local gun range the previous day.
"He's very embarrassed that he failed to remove the gun from his vehicle (before arriving at the school)," Beechler said.
Hall was hired as a substitute teacher by Winston-Salem/Forsyth County Schools on April 5, 2013, and became a long-term substitute teacher five days later, according to Theo Helm, a school spokesman.
Hall was supposed to fill a vacancy for a science teacher until the end of last school year.
Substitute teachers do not need to have a teaching license like permanent teachers but do need to pass a background check, which Hall did.
White said in court that after the incident, Hall was terminated as a substitute teacher. Beechler said Hall is working at Kernersville Parks and Recreation and understands that he will likely never be hired again by the Winston-Salem/Forsyth County school system.