This is an archived article and the information in the article may be outdated. Please look at the time stamp on the story to see when it was last updated.
GREENSBORO, N.C. — Three former animal shelter workers — indicted on felony charges earlier this week — have been arrested.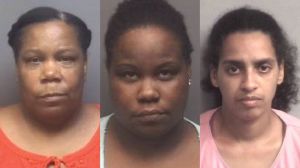 Marissa Studivent, a former employee of both the Davidson County Animal Shelter and the Guilford County Animal Shelter, turned herself into the Lexington Police Department Wednesday night, according to the Davidson County Sheriff's Office.  She posted a $10,000 bond upon turning herself in.
Marsha Williams, former executive director of both animal shelters, turned herself in around noon Thursday to the Guilford County Magistrates Office in High Point. She immediately posted a $25,000 bond.
Another shelter worker — Williams' daughter Dana Williams-King — turned herself in later Thursday in High Point and posted a $10,000 bond.
The three women were indicted on felony animal cruelty charges Tuesday following an investigation.
Williams also faces two felony counts of obstructing the investigation and one felony count of possessing a controlled substance at the Davidson shelter.
All three women also worked at the Guilford County Animal Shelter. The Guilford County District Attorney said no decision has been made on if or when charges there might be filed. The Davidson County District Attorney said it is possible that there could still be more charges in Davidson County.
All three women are due in court Oct. 5.