This is an archived article and the information in the article may be outdated. Please look at the time stamp on the story to see when it was last updated.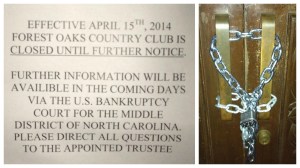 GUILFORD COUNTY, N.C. -- Forest Oaks Country Club, the former site of the PGA's Wyndham Championship, is closed until further notice and the company that manages the club has filed for bankruptcy protection.
"Effective April 15, 2014, Forest Oaks Country Club is closed until further notice," a sign posted on the door reads. "Further information will be available in the coming days via the U.S. Bankruptcy Court for the Middle District of North Carolina. Please direct all questions to the appointed trustee."
ES2 Sports & Leisure sent an email to employees on Monday night:
"It is with sincere sympathy and a heavy heart that we update you all on the status of Forest Oaks. Although I still can not give details as to what lead us to this point due to pending legal matters, I need to inform you that as of Today, 4/15/14 Forest Oaks has closed."
"All employees including department heads are no longer employed by ES2 Sport & Leisure."
"ES2 Sports & Leisure has elected to file for Chapter 7 Bankruptcy protection and will not be able to help with any questions or concerns."
In the email, the company said all employees of ES2 Sports & Leisure have been terminated effective April 15.
"Obviously nobody is going to get paid today," said Garrett Smith, who worked at the club's pro shop.
Smith says the sudden closure will be about a lot more than not being able to play a few rounds.
"We've got guys who live paycheck to paycheck," he said. "They're not going to get paid today."
ES2 Sports & Leisure only managed the club. Tadashi Hattori owns the club in a joint partnership with at least one other owner. He has been in contact with employees about what will happen to the club moving forward.
Isabella's Grill at Forest Oaks has also been impacted by the bankruptcy.
"It's heartbreaking," said Kathy Dudich, who has owned Isabella's Grill at the country club for the past year.
"All the locks had been changed, re-keyed, and I couldn't get in," Dudich recalled after trying to enter the building.
Dudich leased the restaurant, paying a deposit then pumping her own money into thousands of dollars' worth of renovations she just finished.
"I invested my retirement money," Dudich said. "I didn't go to a bank. That's something I'll probably never recoup."
The company posted this message on its Facebook page:
"ES2, THE COMPANY THAT LEASES FOREST OAKS COUNTRY CLUB, AND WHO ISABELLA'S GRILL LEASES FROM HAS DECLARED BANKRUPCY AND THE DOORS HAVE BEEN PADLOCKED AND LOCKS CHANGED. WE CAN NOT EVEN GET IN THE REMOVE ANYTHING AT THIS TIME. ISABELLA'S IS LOCKED OUT JUST LIKE EVERYONE. 
PLEASE PASS THE WORD, ISABELLA'S IS NOT BANKRUPT, JUST THE COUNTRY CLUB. IT IS ALL CLOSED UNTIL FURTHER NOTICE."
The country club's website is also down.
Ricky Proehl, owner of Proehlific Park, issued the following statement regarding the club closing:
"Proehlific Park is shocked and saddened to learn about the bankruptcy filing by ES2 Sports & Leisure, LLC. Proehlific Park has never been involved in the operation, ownership or management of Forest Oaks Country Club.
Proehlific Park allowed the use of name 'Proehlific' to assist another local business with a long and storied history in Greensboro.
Besides this standard name licensing agreement, Proehlific Park has had no other involvement with the operation, ownership or management with Forest Oaks Country Club.
Proehlific Park continues to thrive as a Greensboro-based business and we look forward to many more years of serving the community."
The country club was established in 1965 and is best known for hosting the Wyndham Championship from 1977 through 2007. The event was formerly the Greater Greensboro Chrysler Classic and the Greater Greensboro Open.
The course at Forest Oaks was originally designed by Ellis Maples when it opened in 1962. Davis Love III was hired in 2002 to redesign the course.
No other information is available at this time.
Story is developing. We'll have updates throughout the day.
Sign on front door. This is how members found out club was closed. Workers were also supposed to be paid today. pic.twitter.com/W8m8ReORL2

— Kim Wynne (@KimWynneNBC6) April 15, 2014
Forest Oaks Country Club closed this morning. Members and workers saw doors padlocked with signs up. Many jobs lost. pic.twitter.com/2P51Nfdw7l

— Kim Wynne (@KimWynneNBC6) April 15, 2014