This is an archived article and the information in the article may be outdated. Please look at the time stamp on the story to see when it was last updated.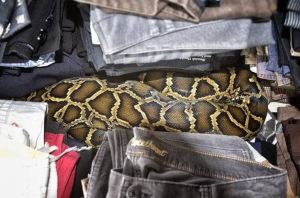 HOMESTEAD, Fla. — A flea market customer was rummaging through a stack of jeans, T-shirts and shorts Sunday when she stumbled upon a Burmese python nearly eight feet long and weighing about 40 pounds, according to the Miami Herald.
"It's a good thing she didn't grab it," said Miami-Dade Fire-Rescue Lt. Scott Mullen, adding that pythons have more than 100 sharp teeth, although they are not venomous.
A flea market worker called fire-rescue.
"They are nocturnal creatures and come out at night looking for food and then look for a place to rest during the day," Mullen said.
The python was given to the Florida Fish and Wildlife Conservation Commission.