This is an archived article and the information in the article may be outdated. Please look at the time stamp on the story to see when it was last updated.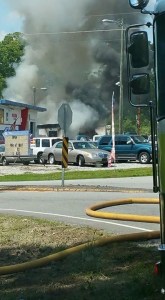 DAVIDSON COUNTY, N.C. — Firefighters responded to a fire Monday at an auto sales business.
The fire was reported at Wright's Auto Care, located at 223 N. N.C. 150.
As of 3:35 p.m., officials said the fire was under control.
The cause of the fire has not been disclosed.
The extent of the damage to the building is unclear.