This is an archived article and the information in the article may be outdated. Please look at the time stamp on the story to see when it was last updated.
WINSTON-SALEM, N.C. -- Crews battled an early morning fire at two old R.J. Reynolds buildings early Thursday morning, including one that was under renovation as part of a planned $55 million multi-use complex in downtown Winston-Salem.
Heavy smoke could be seen billowing from the buildings when the call came in around 1:34 a.m.
The fire was reportedly coming from a catwalk that connected the two buildings, both of which were vacant and under renovation.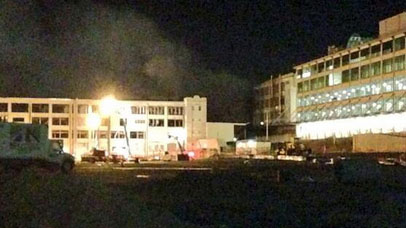 One building was part of the Plant 64 project which is a major development in Winston-Salem to bring retailers to the area.
The other building affected by the fire was the Wake Forest research building.
Both are in the 500 block of east 5th Street.
There were no injuries in the fire.
More than a dozen fire trucks responded to the scene. The fire was said to be under control around 4:14 a.m. even though firefighters had a difficult time due to the water freezing.
Officials say the collapse of the catwalk actually helped the situation because it contained the fire and made it easier to extinguish.
Assistant Chief Harry Brown said the fire is still under investigation, and a cause hasn't been determined. Officials are also still trying to figure out how much damage was done and where the fire started.
Eric Tomlinson, president of Wake Forest Innovation Quarter, said at 10:30 a.m. today that an initial assessment showed neither building received structural damage from the fire.
"We do not believe the damage will cause development of either building to be affected, although we are waiting for all the debris to be removed before we can complete the assessment.
"Both ends of the catwalk were sealed to the best of our knowledge, and a security check had been made at 10 p.m. Therefore we don't know why the fire started yet."
Proposed plans for turning the Reynolds plant into an estimated $55 million multi-use complex appear to be gaining momentum as some interior demolition is under way.
Streets in the area have since reopened. The fire is under investigation.