This is an archived article and the information in the article may be outdated. Please look at the time stamp on the story to see when it was last updated.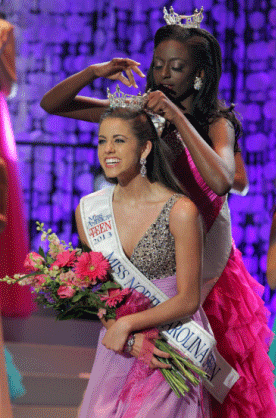 RALEIGH, N.C. — A Fayetteville high school student was crowned Miss North Carolina's Outstanding Teen Friday at Raleigh Memorial Auditorium.
Emili McPhail, Miss Fayetteville's Outstanding Teen, is a rising senior at Midway High School in Newton Grove. She was chosen from a field of 33 competitors.
Organizers said McPhail turned in a strong piano performance of "All Of Me" by Jon Schmidt in the final competition to win the crown.
She chose as her platform "G.R.E.A.T. (Groceries Reaching Every American Today)," a program to combat hunger at the local level by working with area food banks and participating in a CROP hunger walk.
The other top five finalists were Miss Goldsboro's Outstanding Teen Emma Carter, fourth runner-up; Miss Rowan County's Outstanding Teen Hannah Welborn Lewis, third runner-up; Miss Thomasville's Outstanding Teen Kylee Russell, second runner-up; and Miss Queen City's Outstanding Teen Kaelyn Embler, first runner-up.
Rounding out the top ten were Miss Lake Norman's Outstanding Teen Payton Walker; Miss Johnston County's Outstanding Teen Alexis Massengill; Miss Greater Sandhills's Outstanding Teen Kathryn Payne; Miss Wilmington's Outstanding Teen Kyndall Westerbeek; and Miss Greater Carolina's Outstanding Teen Morgan Hendrix.
The Miss North Carolina Pageant will be broadcast live from Raleigh Memorial Auditorium on Saturday at 8 p.m. The pageant will air on Time Warner Cable across the state as an "On Demand" live broadcast.  In addition, it will be available following the live telecast on Time Warner On Demand.