This is an archived article and the information in the article may be outdated. Please look at the time stamp on the story to see when it was last updated.
GREENSBORO, N.C. — The father of the teenager charged with inciting a riot in Greensboro says his son will have to sit in jail for now.
17-year-old Tony LaShon Cleveland Jr. is facing additional charges for having weapons, including a sawed-off shotgun.
"I am against the riots in Baltimore. I don't condone what my son did," Tony Cleveland Sr. told FOX8 off camera. "I don't agree with using oppression and racism as a platform to do the wrong thing."
"My son is my responsibility and I'll always support him," he added. "I've bailed him out of jail before, but I won't this time because I love him. And he needs to take his medicine."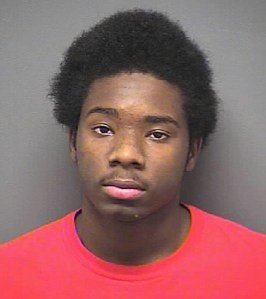 He believes his son finally realized the seriousness of the charges against him at his first appearance via video in a Greensboro courtroom Tuesday.
Cleveland Jr. threw his head back and looked shocked when Judge Foster increased his secured bond from$20,000 to $50,000. She told Cleveland if he managed to post a bond even without his dad's help, he was ordered not to go on the Internet.
The teenager allegedly posted a picture on Facebook Monday encouraging people to meet at the mall in Greensboro this weekend for a riot.
Police investigators tell FOX8 they had to take the Facebook post seriously, especially after citizens and other agencies starting calling them with concerns.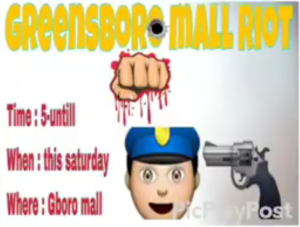 "There were approximately 192 shares just within 2 hours," explained GPD Lt. Teresa Biffle. "Also, the tone of the comments that were being made; there were some people calculating how many people it would take to take over a car."
Lt. Biffle said it seems most people understand there is a difference between inciting a riot and gathering people peacefully to exercise their First Amendment rights.
"We actually encourage peaceful dialogue about issues within the community," she pointed out. "This situation was definitely different with the intent of what could have occurred if [the riot] was carried out."
Cleveland was currently on electronic monitoring for a breaking and entering charge.
His father said the teen was about to settle a plea deal in May for other pending charges. The plan was for him to start working on his GED while he was serving time for those charges and hopefully get a fresh start when he was released.
Cleveland Jr.'s criminal history included charges of breaking and entering, larceny, posession of stolen property, resisting a school resource officer, disorderly conduct at school and simple affray.