This is an archived article and the information in the article may be outdated. Please look at the time stamp on the story to see when it was last updated.
WEDDINGTON, N.C. — The family of a young girl whose violent death inspired a North Carolina state law has been honored.
WSOC-TV reported that U.S. Rep. Robert Pittenger honored the family of Kilah Davenport Thursday, months after the approval of the Kilah Davenport Child Protection Act.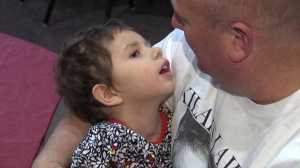 "She always said (she would) be a star one day. We just didn't know it would be like this," Kilah's mother Kirby Davenport said, according to WSOC-TV.
Kilah's mother called the day bittersweet. She was excited to be presented with the pen President Barack Obama used to sign the law, but she was sad Kilah wasn't there.
The four-year-old died in March, two years after she was severely beaten by her stepfather.
"My son is actually one-and-a-half, and when we say, 'Where's sissy?' he points to the sky and says, 'Sky,' Davenport said. "And he fully gets it."
The family pushed for a federal law and Pittenger sponsored it. He presented the family with a framed copy of the legislation that helps create tougher penalties for child abusers. He believes it will save many lives.
Read full story: WSOC-TV