This is an archived article and the information in the article may be outdated. Please look at the time stamp on the story to see when it was last updated.
Rainbands from the Florence will start bring the heaviest rain into the Piedmont Triad Sunday.
Florence became a tropical storm just before 5 p.m. Friday as it headed over far southeastern North Carolina just west of Wilmington. The storm was near Myrtle Beach overnight Friday into Saturday, will move closer to Conway and then move west across South Carolina on Saturday into Sunday and then start to move faster northwest through the mountains and away from the Piedmont Triad early next week.
Most of the FOX8 viewing area will be under a Flash Flood Watch until the beginning of the week. On average we could see 6 to 10 inches of rain. Rainfall estimates for Piedmont Triad counties are shown below.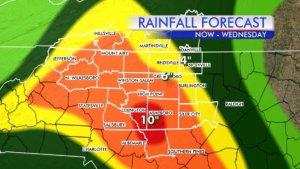 During the day Monday, the leftovers of Florence will quickly clear the southeast United States. But in its wake, we could still see scattered showers and thunderstorms during the afternoon and evening on Monday. Scattered showers and thunderstorms will remain in the forecast for Tuesday.
Finally on Wednesday the sun will shine. Afternoon highs on Wednesday will be in the middle 80s. Thursday will be sunny to partly cloudy with highs in the lower 80s. Sunny to partly cloudy on Friday with highs in the low to mid 80s.
We remain at a HIGH RISK for flash flooding today and tonight. #upwithFOX8 pic.twitter.com/t36DOCy660

— ♌️ Emily Byrd 🌬 (@Em_I_Am) September 16, 2018
The local radar, as of 7:30 am (approximately): pic.twitter.com/WZaAv6P4Ti

— ♌️ Emily Byrd 🌬 (@Em_I_Am) September 16, 2018
Sunday, 8 am: Updated rainfall forecast through 8 am Wednesday. #upwithFOX8 pic.twitter.com/rGlF3MZB6O

— ♌️ Emily Byrd 🌬 (@Em_I_Am) September 16, 2018
Flash Flood Watch continues for the FOX8 viewing area through the weekend. River flooding is occurring as well along the Yadkin and Dan Rivers and will have longer-term effects. #upwithFOX8 pic.twitter.com/e7z8AuGeqO

— ♌️ Emily Byrd 🌬 (@Em_I_Am) September 16, 2018
Sunday, 8 am: Current winds and wind gusts. Both should diminish through the day. #upwithFOX8 pic.twitter.com/nxFctSAk9t

— ♌️ Emily Byrd 🌬 (@Em_I_Am) September 16, 2018