This is an archived article and the information in the article may be outdated. Please look at the time stamp on the story to see when it was last updated.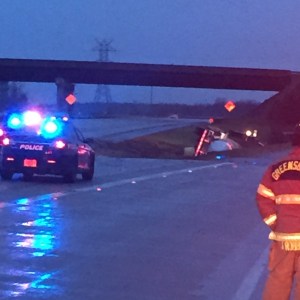 Update 4 p.m. All lanes and the exit to U.S. 421 are now open, according to Greensboro police.
Update 1:30 p.m. The road is now expected to re-open at 3 p.m.
Update 10:20 a.m. The road is now expected to re-open at about 1:30 p.m.
Update 8:38 a.m.: The right lane of I-85 South is also now closed.
GREENSBORO, N.C. — Due to a traffic accident involving an overturned tractor-trailer tanker, the exit ramp (Exit 126B) from Interstate 85 South to US-421 North is closed until further notice.
The tanker overturned around 6:30 a.m. into a ditch between I-85 and the ramp.
A passenger was taken to the hospital with non-life-threatening injuries.
A small diesel spill from the truck has been contained.
Drivers should take Exit 128 and take a right onto Alamance Church Road to reaccess US-421.
The road is expected to re-open at about 10:15 a.m.