This is an archived article and the information in the article may be outdated. Please look at the time stamp on the story to see when it was last updated.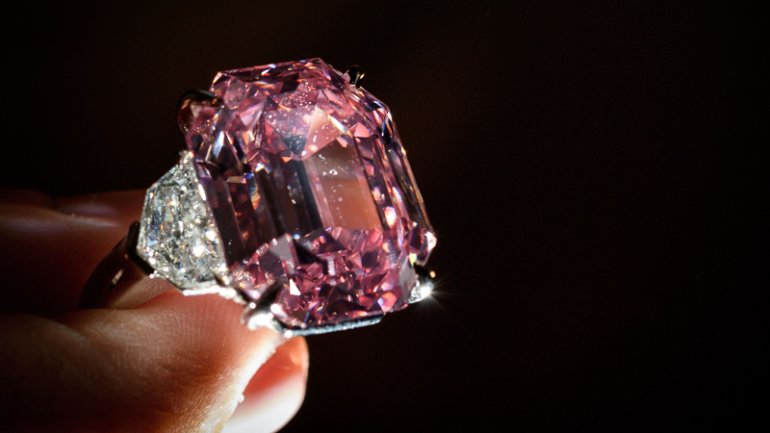 GENEVA — An unusually large pink diamond sold for $50 million (about 50.4 million Swiss francs) Tuesday at Christie's auction house in Geneva.
The 18.96-carat Pink Legacy went under the hammer as part of the annual Magnificent Jewels auction and attracted a huge amount of interest due to its large size and impressive color grading.
Pink Legacy is categorized as a "Fancy Vivid" diamond, the highest grade of color intensity. Only 1 in 100,000 diamonds receives the grading.
The diamond is an even rarer find due to its size, as Fancy Vivid Pink diamonds over 10 carats are "virtually unheard of," according to Christie's.
Christie's did not identify the jewel's latest owners but it once belonged to the Oppenheimer family, who ran the De Beers diamond mining company for three generations until selling their stake in 2011.
The sale is the latest in a booming market for large pink diamonds.
In April 2017, a 59.6-carat diamond known as the Pink Star became the most expensive jewel sold at auction after going for $71.2 million at Sotheby's in Hong Kong. It was the largest polished diamond ever auctioned.
Then in November 2017, the Pink Promise sold for $32.5 million at Christie's Hong Kong. At almost 15 carats, the diamond sold for a record-breaking $2.176 million per carat.
It is set to be a big week for Christie's as a painting by British artist David Hockney is expected to smash the record for a work by a living artist sold at auction.
"Portrait of an Artist (Pool with Two Figures)" is set to be sold at the Christie's Post-War and Contemporary Art Evening Sale at New York's Rockefeller Center on November 15 for an estimated price of $80 million.