This is an archived article and the information in the article may be outdated. Please look at the time stamp on the story to see when it was last updated.
BURLINGTON, N.C. -- Police have captured a female inmate who escaped custody on Wednesday afternoon in Burlington.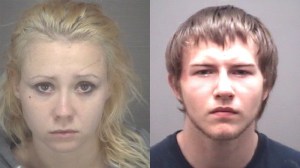 Colette Sorine Vanderbilt, 22, of Currituck County, was apprehended at the Econo Lodge located at 2133 Hanford Road.
Police said when she was taken into custody, another person was found in the motel room trying to hide her. That suspect is in custody and has been identified as 16-year-old Lucas Aaron Harvey. Police say Harvey resided in the motel room.
Police say they aren't sure how Vanderbilt was able to convince Harvey to help her hide.
The deputy had stopped for a restroom break at the Bojangles located on Maple Avenue. When the deputy was assisting Vanderbilt out of the vehicle, she fled on foot.
Vanderbilt had outstanding warrants for her arrest for multiple crimes. She was apprehended in Mecklenburg County and was in the process of being transported back to Currituck County when she escaped.
When being brought out of the motel room, police say Vanderbilt assaulted an officer and kicked out the window of a Burlington police car.
Warrants were obtained by Burlington police for felony escape, assault on a law enforcement officer, resist/delay/obstruct an officer and injury to personal property.
These warrants will be served later since Currituck County already had custody of Vanderbilt, police said. Vanderbilt was arrested in Charlotte for the following outstanding warrants of breaking and entering a motor vehicle, felonious possession of stolen property, larceny and possession of drug paraphernalia.
Vanderbilt sustained minor injuries. She is now back in Currituck County.