This is an archived article and the information in the article may be outdated. Please look at the time stamp on the story to see when it was last updated.
WEAVERVILLE, Calif. — A boy in eighth grade was given detention for allegedly sharing his lunch with a fellow student.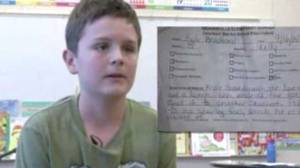 Kyle Bradford says his friend didn't like the cafeteria food that day, so he offered him some of his chicken burrito.
"It seemed like, he couldn't get one, a normal lunch so I just wanted to give mine to him because I really wasn't that hungry. It was just going to go in the garbage if I didn't eat it," Bradford said.
The school district has rules against sharing food to avoid any issues with allergies.
District Superintendent Tom Barnett said that because of safety and liability, they cannot allow students to actually exchange meals.
Bradford's mother says he should not be punished for being compassionate.
The boy says he'd share his lunch again if a friend asked him to.
CNN contributed to this report.