This is an archived article and the information in the article may be outdated. Please look at the time stamp on the story to see when it was last updated.
GREENSBORO, N.C. — A high school student has been charged in the death of a Food Lion security guard.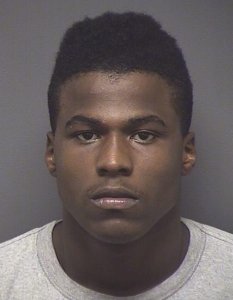 Nature Maurice Williams, 16, a student at Eastern Guilford High School, was taken into custody at about 4 p.m. Tuesday and charged with first-degree murder, according to a news release from the Greensboro Police Department.
Anthony Charles Smith, 51, was shot and killed while performing his duties as a security guard at the Food Lion at 2316 E. Market St. on Oct. 8
Officers arrived at the business at 7:30 p.m. on Oct. 8 and located Smith unresponsive in the entrance of the store suffering from a single gunshot wound to his head.
Smith was employed by Guard One Security and was working as an armed uniformed security guard at the time of the shooting. He was transported to a local hospital with critical injuries and died upon arrival.
Williams was also charged with robbery with a dangerous weapon for taking Smith's firearm. The firearm has not been recovered.
"We were already deeply saddened by the senseless loss of life in our community. This latest news simply compounds the tragedy." said Nora Carr, Guilford County Schools chief of staff.
The State Bureau of Investigation and the Guilford County Sheriff's Office assisted in the investigation and apprehension.
Williams made his first appearance inside a Guilford County courtroom Wednesday.
FOX8 was able to obtain Williams' arrest warrants.
The warrant states that Williams himself had a .45 caliber handgun at the time of the shooting, prior to taking Smith's 9mm.
According to the judge, he could face life in prison for the first-degree murder charge and close to 20 years for the robbery charge.
Right now his bond will remain on hold. His next court appearance will be at the Guilford County Courthouse Nov. 15.
Anyone with additional information on this crime is asked to call Crime Stoppers at (336) 373-1000 or Det. A.R. Hinson at (336) 574-4004.