This is an archived article and the information in the article may be outdated. Please look at the time stamp on the story to see when it was last updated.
South Shore furniture is recalling a chest of drawers due to a serious tip-over and entrapment hazard after one person died.
The recall was issued Thursday and included 310,000 products which were sold for about $60 each online at Walmart.com, Amazon.com, Target.com and other retailers from October 2009 through July 2018.
South Shore received two reports of tip-over incidents involving the recalled chests of drawers.
In one, a child had bruises on his leg and scratches. The other involved the fatality of a 2-year-old and an unanchored, empty 3-drawer chest.
The recalled chests are unstable if they are not anchored to the wall, posing serious tip-over and entrapment hazards that can result in death or injuries to children, according to the United States Consumer Product Safety Commission.
This recall involves Libra style 3-drawer chests of drawers sold in nine colors. Each drawer has one metal handle.
The model number is printed on a label on the back of the chest. The chests measure 27½-inches high by 31¼-inches wide and 15½-inches deep and each weighs about 56 pounds. The model numbers and colors include: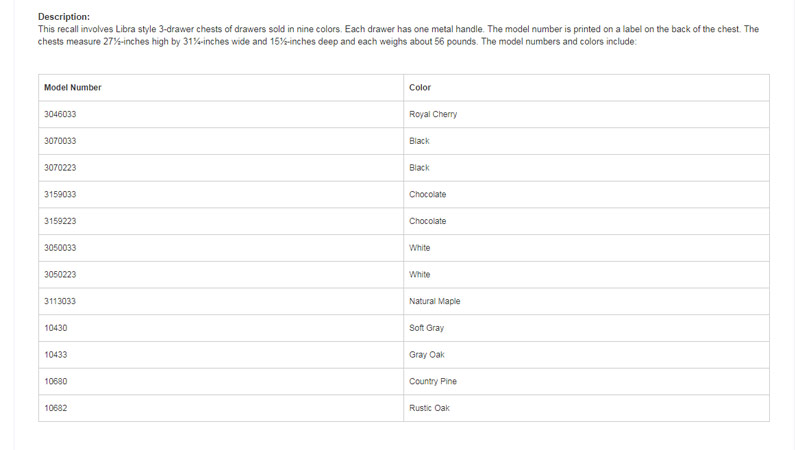 People who bought the products are asked to return or repair them.
For more information on the recall, visit the United States Consumer Product Safety Commission's website.